I am Borg, Velo-man, half bicycle, half human, a 21st Century Minotaur. After almost 4,400 miles, who can tell where the bicycle ends and the man begins? Do I exist for the bike or does the bike exist for me? We're an old couple these days, swapping fluids (sweat and chain lube), grinding away the hours in this steady continental crawl. The desert expands and swallows us whole. Distance, sand, wind, the chocolate volcanic mountains sawing away on every horizon.
I've entered California. I can hardly believe it. I'm on my last week of the tour and very happy that I've chosen to cut across the Mojave and the coastal mountains to finish in Ventura. The riding has been wonderful, even the stretches along I40. In a couple of spots I've laughed in the face of regulations prohibiting bicycles on the interstate. Access to water and escape from a slice of Route 66 compelled my actions. The water needs are clear enough, but for those unaware of the section of Rt. 66 from Ludlow to Newberry Springs, beware. The route may be so wonderfully "Historic!" but the pavement is
prehistoric
. It isn't pavement. It's anti-pavement, the worst of all possible "improved" road surfaces. Jodi and I pedaled it once on the trike tandem, and I vowed to never repeat the experience, even with my soft-ride Mojo. So after a good night in the desert outside Ludlow, I sidled onto the lovely shoulder of the main highway and motored like there was no tomorrow. I ate up the miles, frequently cruising in the high teens. Traffic was light, the morning cool. Uber biker, however, can be stopped. My nemesis was Kryptonite in the form of a drywall nail. Even super goo in the tube couldn't withstand that bit of devilish chicanery. I'm an old hand at fixin' flats, so in no time I was up and zooming.
I arrived in lovely Barstow a little before noon and celebrated with a Starbuck's coffee and a newspaper--good coffee, bad news, as usual. I've decided that a night, let alone TWO, is unthinkable in this place, a raunchy clot wedged in between I15 and I40. I loaded up the mule with a big wad of chow, and I'm heading out for the great beyond. Camping has been a blast, and I'll take a rest day at Saddleback Butte St. Park about 70 miles down the road.
The desert miles have settled into my bones, the long, lonely arrows of pavement that draw me on and on and on. When the going gets tough, I pull out the MP3 and dose on a little Creedance Therapy--or some such elixir of rhythm and rocking and melody to drive my egg-beater cadence and so chew the distance that separates me from the coast and home. What can I say? This continent is going down. I've been lucky and graced and blessed to travel this road. The last few days will be packed with challenges, and I wouldn't have it any other way. Bring on the mountains so that I may taste the sea.
I'll be in the wilds, camping willy-nilly with hardly a Wi-fi or library to be found. I'm going rogue, going dark. I will most likely not be able to post again until the deed is done. I might get a chance in Frazier Park, but I'll likely be too wasted to do much but camp and crash.
Be well! This is Biker Scotty signing off for his last (?) dispatch from the Frontier of Human Powered Travel in the Great American Outback.
A foxy visitor: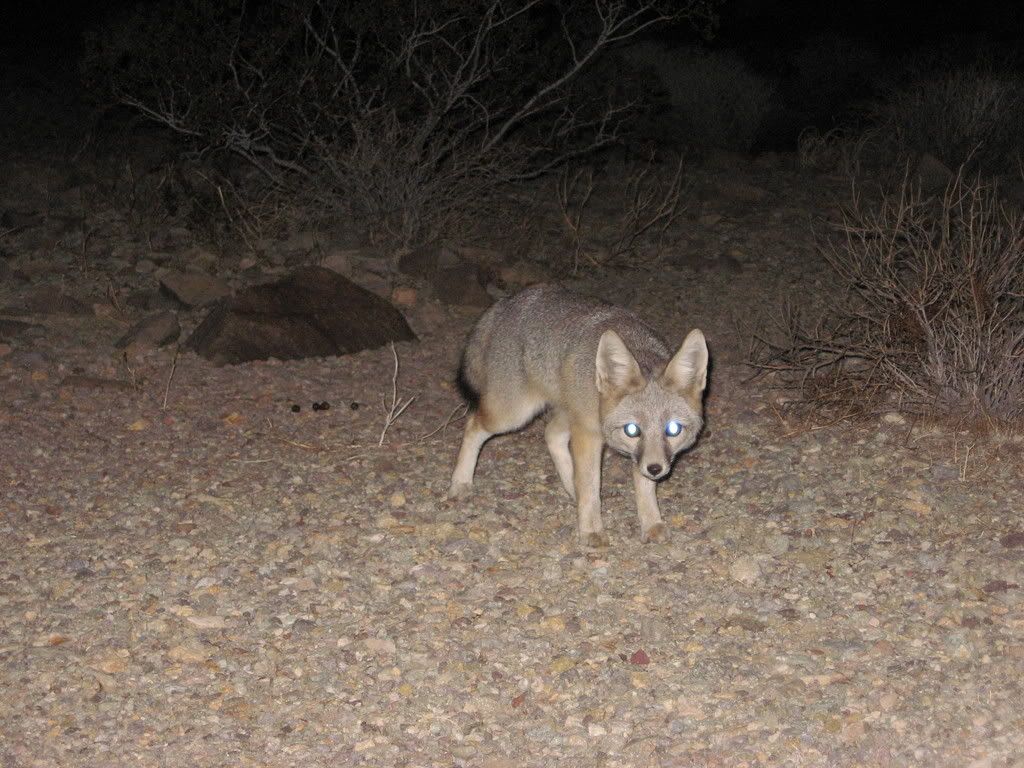 Local artists along Rt. 66 before Amboy:
These Germans take their internal combustion seriously!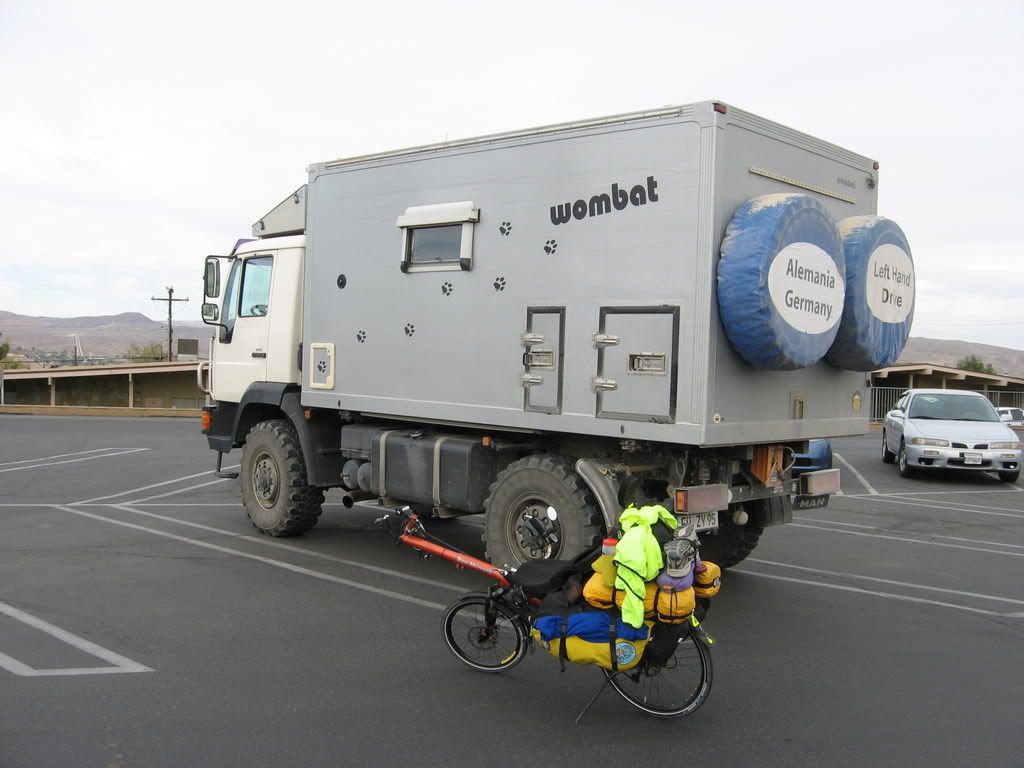 Relaxin' off the pedals:

A resident of Oatman, Arizona:
A doomed "World Famous!" buffalo burger:
I've been Knighted!
The Colorado River: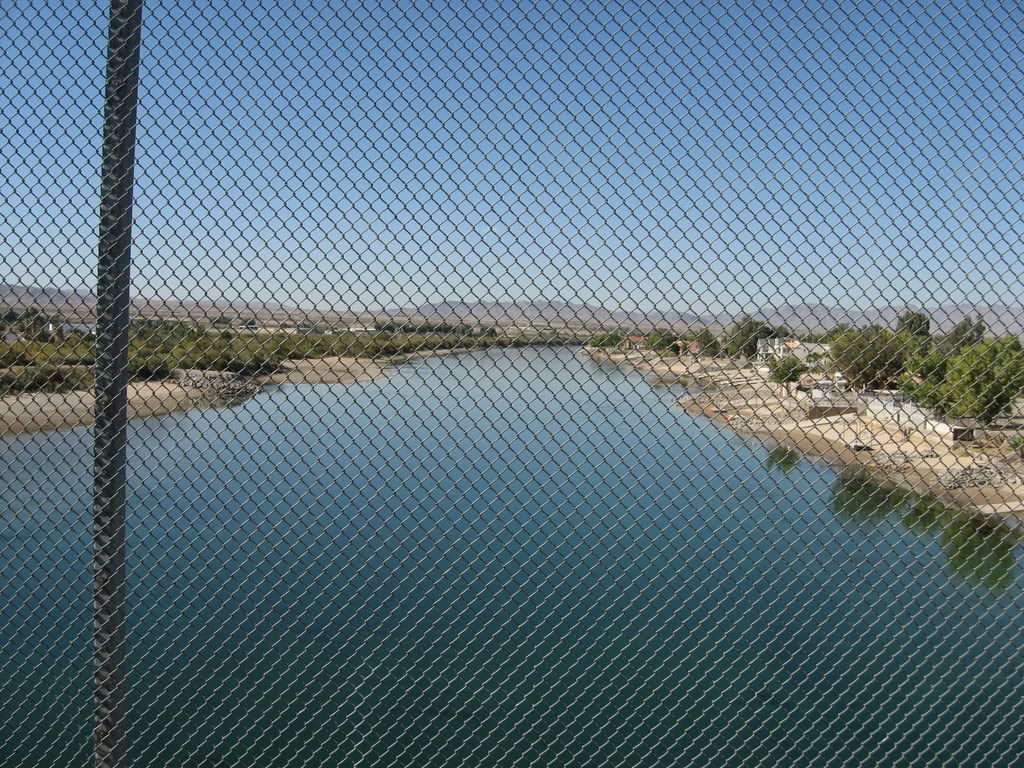 Wild camp along Rt. 66, California: