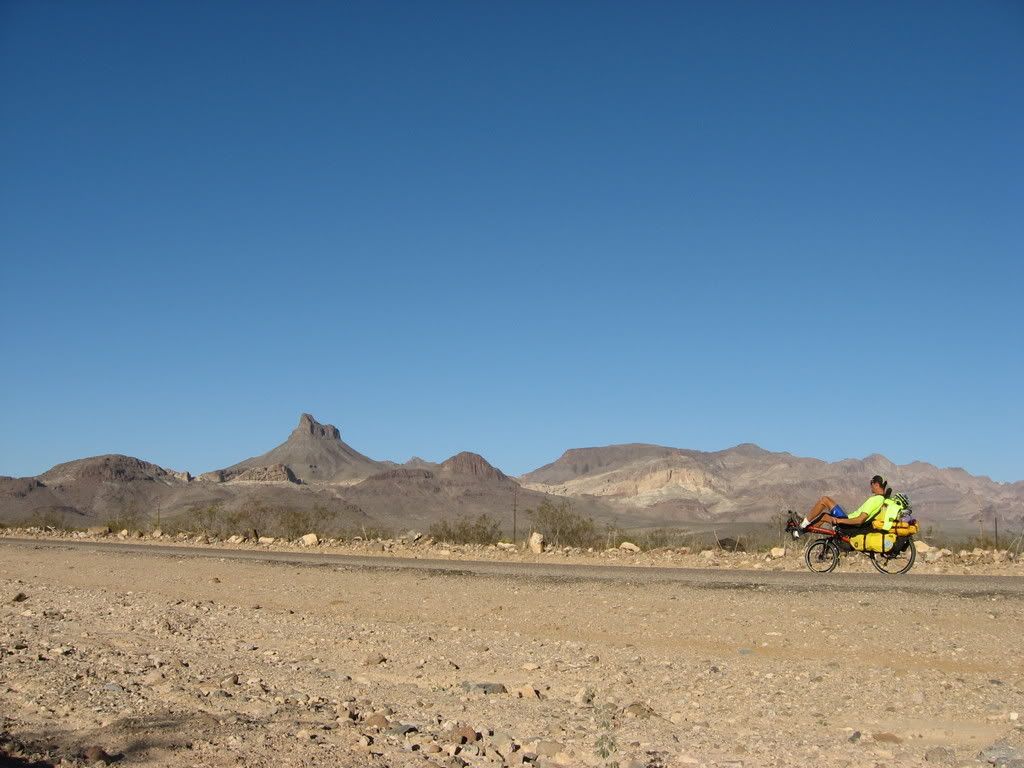 I stood on a high pass and looked down 3,000 ft. to the Colorado River. On the other side, the desert mountains of California lay in rumpled brown ranks. In a couple of hours, I would be in my last state, home.
I still have several hundred miles to go, but I'm writing these words from Needles, CA, where I'll spend the night and push on for the deep Mojave tomorrow. I'll be following "Historic!" Route 66 for much of the way though some stretches of Hwy 40 will be unavoidable. I haven't much time, but I wanted to post a few shots and say that this has been a truly fantastic day, some of the best riding of the trip.
Mike and Mo led me out of
Kingman
, three bent riders storming the early morning streets. We left Mike at the turn to his work and Mo came along a bit farther. We dropped through a craggy, narrow canyon and out into the basin beyond. I left Mo and fell into a smart tailwind that pushed me on the gentle down grade for many miles. I devoured that basin like a lite snack. Then a big push up, up, up over
Sitgreaves
Pass, 3,550 ft., then huge, huge, HUGE descent through
Oatman
and all the way down to the Colorado River. I rolled down the mother of all
bajadas
until I was almost bored. Then, when I had to turn south, tailwinds again (
heh
,
heh
!) and I flew along, managing high teens to low twenties with minor effort. By 12:30pm California time, I was in Needles.
This town is something of a dump, but a motel and an early start tomorrow will get me out of here in fine shape. I've got a very long climb up I40 to get out of the Colorado River basin. I'll post next from
Barstow
, the finest little desert strip mall hell you've ever driven through.
Be well!