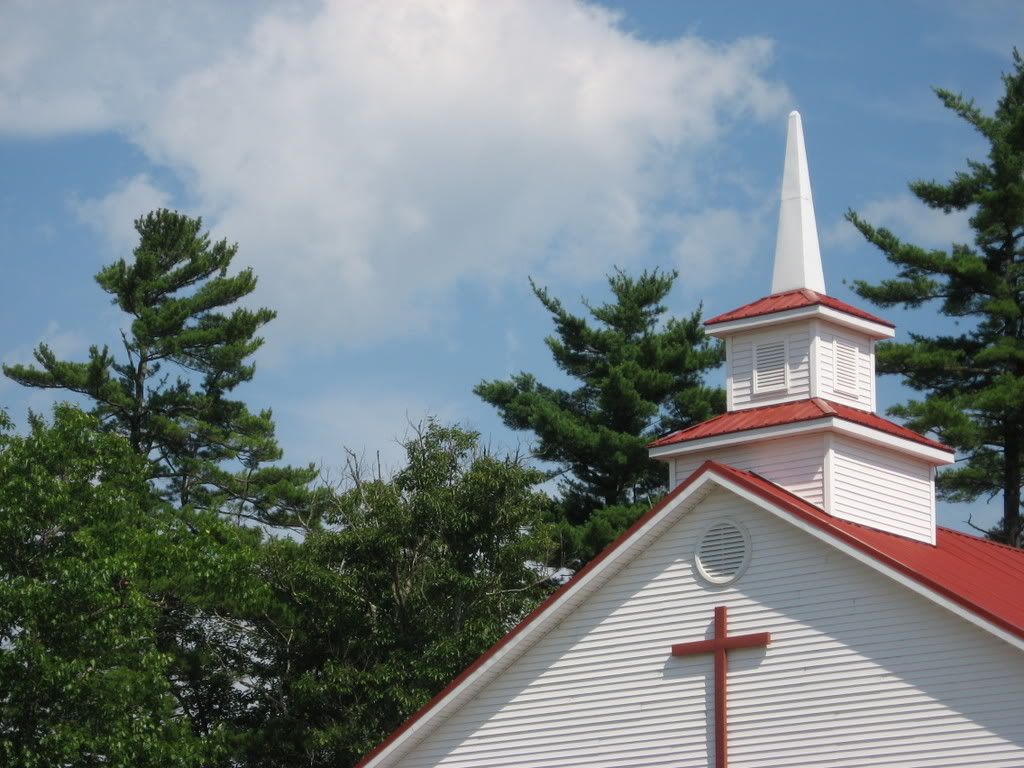 I've pedaled as far as Norway--Maine, that is. The adjustment to the climate has been a challenge though I find that when I'm out on the bike, I feel fine, even when its in the 80's and humid. OK, "fine" is a relative term here, but I can knock out the miles. Central Maine has provided challenging conditions with countless steep climbs, many times well over 10%. I call them "granny grinders" after the so-called "granny gear" of my smallest front cog. We've become great friends, she and I, playing long, sweaty games together. Gotta love Granny.
The forest here is a fearsome presence, so deep and dark with promises to keep--forever. I camped last night on a ridge above the Androscoggin River. I saw a rotting shed and an abandoned stock tank and took my chances. A breeze knocked the edge off the heat, and I looked out over fields and classic New England barns to a heavy forested ridge in the distance where a huge thunder storm was spreading dark wings across the horizon. To the north, another anvil cloud muscled its way into the heavens. I set my camp and watch the show. I've rarely seen such a fantastic sunset.
After dinner, I crawled into my tent and worked on getting used to feeling damp ALL THE TIME. I lay on top of my pad in the unmoving humidity. As refuge from the bugs, a tent is essential, but even with the fly off, conditions within are challenging for the "dry-heat" types from out West. This is the biggest annoyance, just the chores of camping. I look forward to the other side of the 100th meridian in this regard.
The night before I camped under a cell tower. I have no idea where I'll be tonight. In that uncertainly is much of the challenge and charm of this kind of travel. From the ridiculous to the sublime, this tour has got it all.
Update: Later today...
I've decided to stop early for the day--although I've still done 51 miles and over 2,800 ft. of climbing. It's not the total miles or gain; it's the pitch of these climbs. Sweden Road took it out of me. Sweden, a flat country, yeah? Fugetaboutit. Should've been called Switzerland Road. I was really a damned fool and should have pushed on the first big steep, which had to be well in excess of 15%. I did push on the second. On a fully loaded bike, these hills are murder, much harder than the long grades of the Sierras near home. I can ride 8% all day, but these buggers, no way. My left leg is a bit strained though I don't think it's anything serious. I've resolved to just stifle the ego and walk when the grades are so severe. The distance is never great--just a few minutes of walking for the most part--and my speeds are not that much slower! I don't have to prove anything. You've really got to see these hills to believe them. Besides, I've got a whole continent to cross. Oh, and on top of the climbs, I've been hosed on three times today by passing thunderstorms. The skies have been beyond wonderful. Just been a day of extremes.
I'll probably camp out in the park behind the library where I type these words in Lovell, Maine. I wanted New Hampshire, but my legs said, "Rest, Dude." There's a market across the street, water and an outhouse in the park. What else do I need? You'll note, of course, that I've been able to post some photos. I'll do my best to do this more often.
A shot of today's sky: