I left Santa Fe on a breezy, cool morning and didn't take my wind shell off all day. In short order, the town was a thin line in my rear view mirrors. Then all that remained were the mountains and the sky, the sun glaring down.
These last few days of riding have been all about climbing, mountaineering recumbent style. From Taos to Sante Fe, almost 6,000 ft. My first day after leaving Steve's place, I climbed about 3,700 ft. Tough country. But the mountains, canyons and the magical days are fair compensation. If you can't handle the mountains, stay in Illinois.
Route 14 south led me through a series of towns, the most memorable being Madrid. Once a dead mining town populated by mice, coyotes, and cacti, in 1970 it was reclaimed by artists and now boasts a main street flanked by gallery after gallery. I stopped for coffee outside a cafe that sold t-shirts loudly proclaiming: "Bad Coffee Sucks." Indeed, it does. The brew I received was not bad, so there you go. I was immediately surrounded by curious folks asking questions and marveling at my bike. My heart, however, went out to one girl, a coyote mix pup called, "Trouble." I considered stuffing her into a pannier for a moment, but the owners were watching. Bark on, baby.
After Madrid, the climbing picked up, miles-long grades into the New Mexican sun. Traffic was light, and I settled into my own world of high cadence and slow ascent. In late afternoon, I came to the intersection with Hwy 40, passing on the way large areas of very expensive homes, retreats for the wealthy from the wilds of Albuquerque. Beyond, I expected to have the road to myself as I entered Cibola National Forest. Was I mistaken. The high forested region I was heading into was another bedroom community for the big city. Less exclusive than the region north of 40, it held many homes scattered throughout the pinyon pines and junipers. So a moderate, but steady, stream of traffic rolled by me as I labored up the road, blessed at least by a good shoulder.
All the while, I was concentrating on a camping spot, but the road followed a narrow gorge that offered no opportunities for a stealth bivouac. The day was getting on, and eventually, I slipped into a "Picnic Area" with "FINES" for camping overnight. Well bugger that. I'm stayin'! The sun was getting low along with the temperature, so I resolved to slap around any ranger that might give me grief. After some exploration, however, I found a perfect little draw well below the level of the road. Stealth jackpot--dark, hidden, high mountain bliss. I dropped off to sleep with the wind blowing in the branches far overhead.
I then headed south again along the eastern flank of the Manzano Mountains, the high point over 10,000 ft. Rolling forests gave way to open grasslands to the east. I pedaled through a string of land grant settlements. One particularly trashed curve of the road had a sign prohibiting the taking of pictures. I should have snapped a shot of the sign, but kept moving, thinking that if my hood looked this way, I wouldn't want people taking pictures either--rotting single-wides, garbage, rusting hunks of mettle, Junkville, USA.
My plan was to camp in Manzano State Park. At the town of Manzano, I stopped in a small market to resupply (an ice cream bar and an onion, which turned out to be largely rotten inside) and asked about the distance to the camp ground. The clerk, a middle-aged woman, said, "Oh, about a mile to a mile and a half, just up the road." Just the news I wanted to hear.
So, you know how this story goes, eh? No, lady, no, no, NO! It's six miles ALL UP HILL. What is it with people who have no simple knowledge of the places where they live? She wasn't just off by, say 50% or, say 100%. She was off by about 600%. Jeez. After three miles of slogging, I finally came to a sign that said I had another three to go. To hell with that. I spun around, zoomed back to the main road, loaded up with water, and continued along the main route.
Miles of warm, downhill, tailwind riding carried me away from that den of mis-information. I found my sanctuario in a stone and wood gazebo gone to seed. There was an outhouse and water, so I didn't care. I camped without a tent and watched the sun set through a sandstone doorway. I passed a good night but for the crazed howling and barking of a dog (no coyote) close by at midnight---arrrrgh.
Now I find myself a mountaineer in the town of Mountainair. I'll be riding west, into the wind, for about twenty miles to my camp. Tomorrow, I'll be in Socorro and primed for the last big push to the Arizona border.
The lone recumbent cyclo-tourist perseveres, mile after mile in the Wild West. This is Biker Scotty signing off from the frontier of human powered adventure.

Photographic evidence of the journey...
Madrid: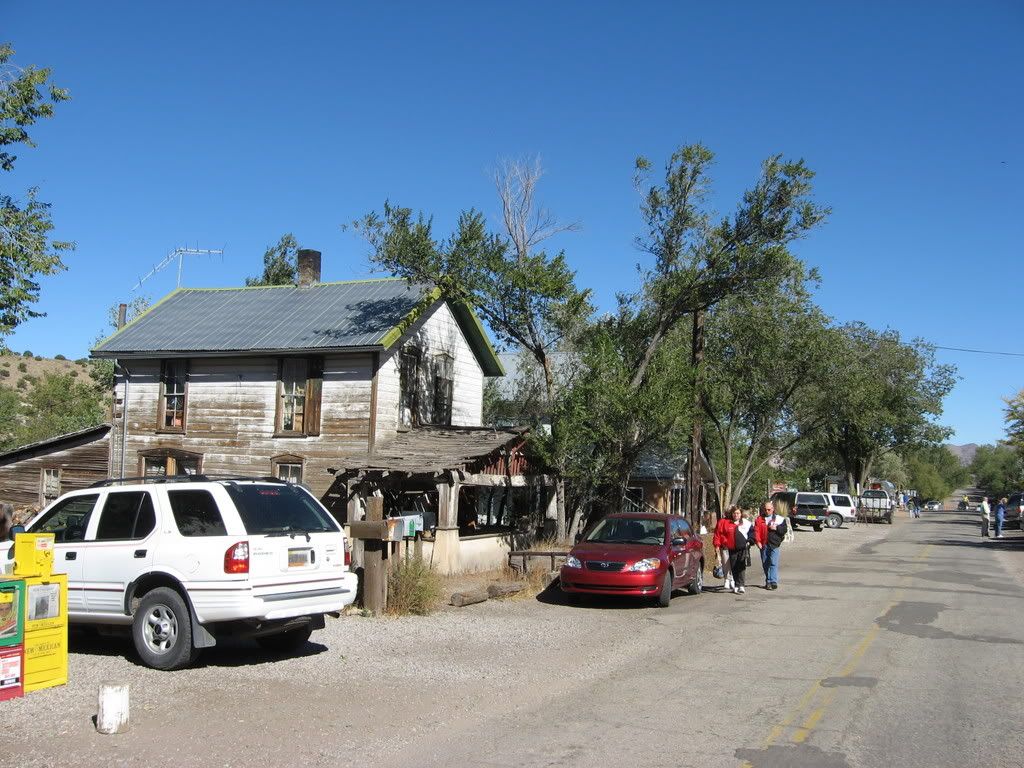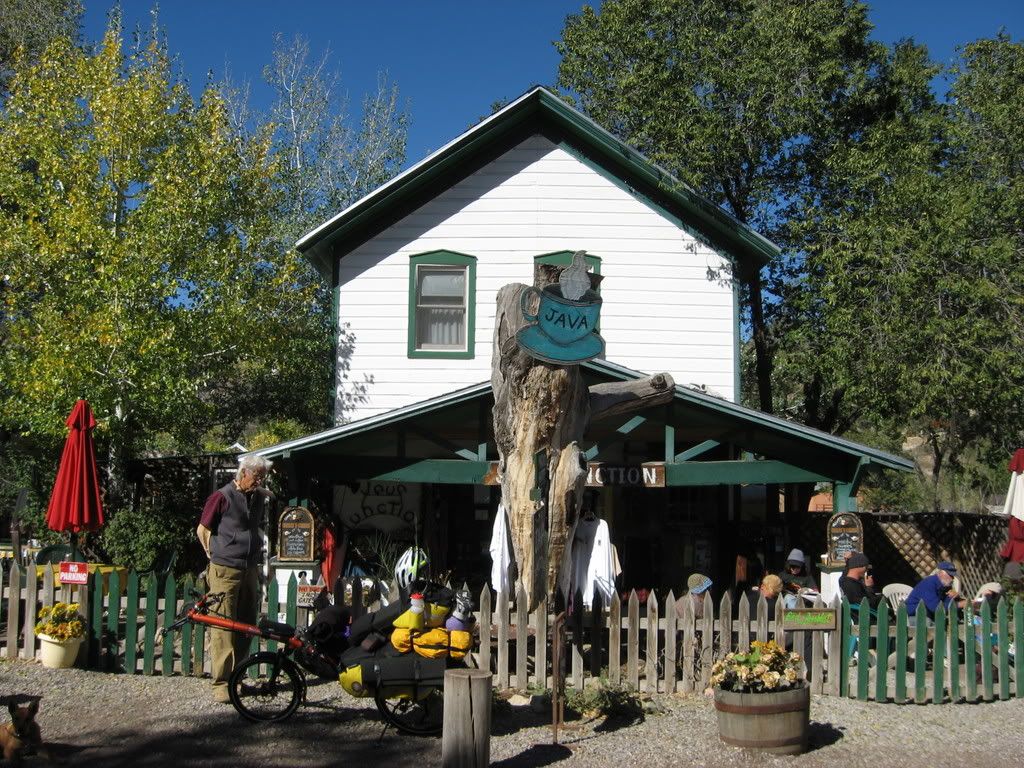 Development just outside Madrid: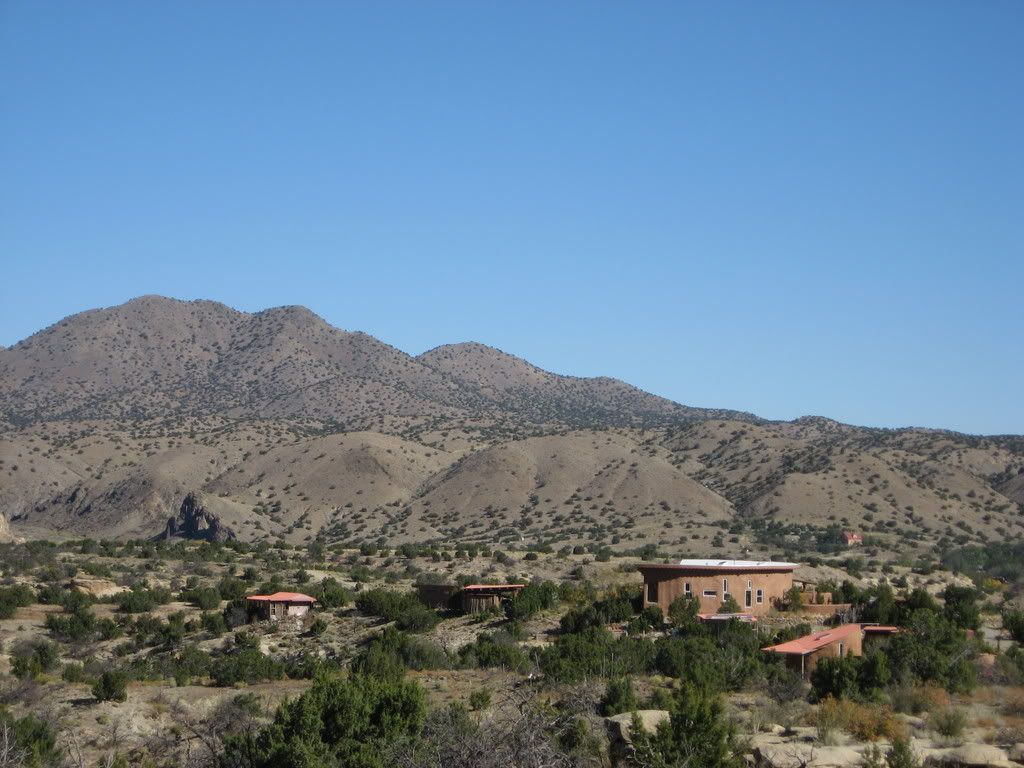 Cafe in town: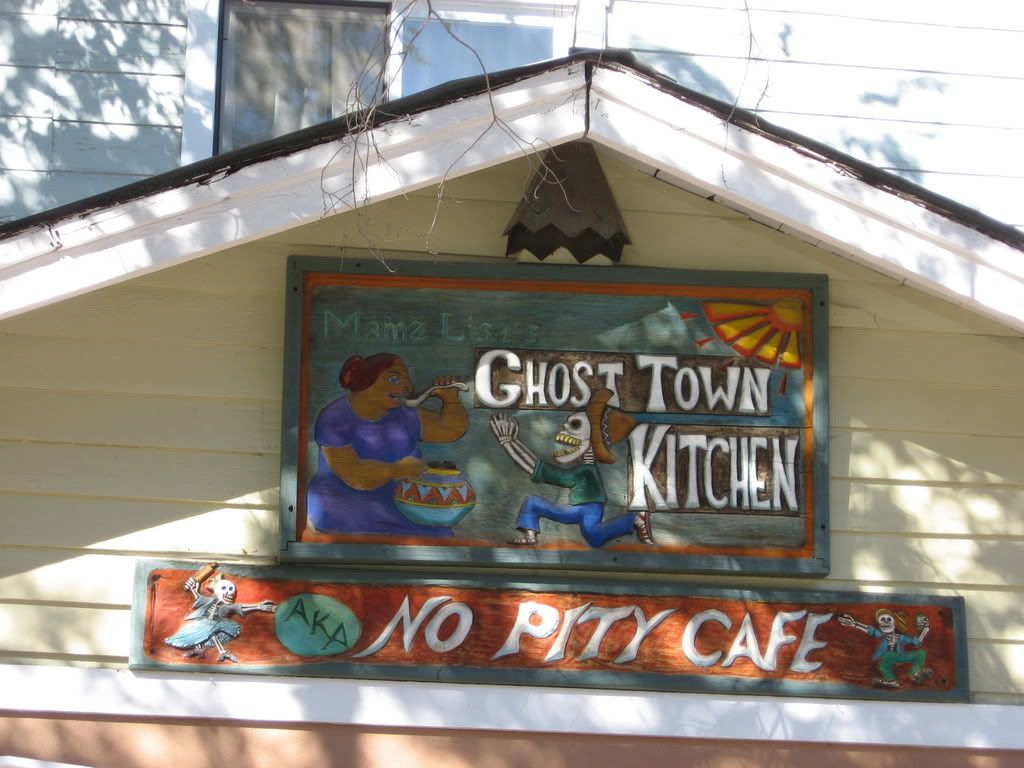 The big country on Route 14 south: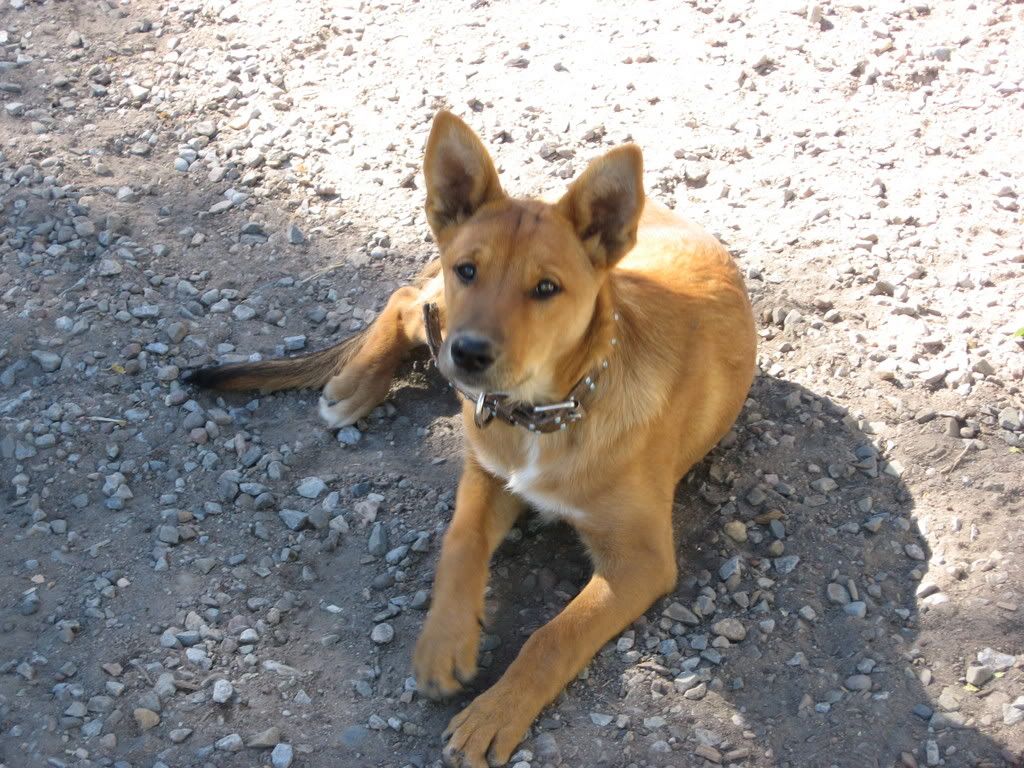 Camp life in high New Mexico:
Some affordable real estate:
Where's the Starbuck's?