The road turns. Faces appear and vanish. Winds drift through the sage and sing across my whirling spokes. I turn, someone smiles, exclaims at my vehicle and the nature of my pilgrimage, and I've found a new friend, a guide, the right person at the right time. And so it transpired in Taos.
A post-modern goddess, the shock of blond hair, two nose piercings, bangles, Lindsey Lohan style sunglasses, she had no trouble identifying me as the cyclist belonging to the heavily laden Mojo out in front of the library. Kayla had done a long tour herself and was thrilled to see me and hear of my journey. This was the person I needed to meet. I asked her about where I might camp for the night. Without hesitation she said, "Yes! The Hanuman temple has people camp out all the time. I live next door to the ashram. They have food and I'm sure they'd let you stay there." And so I would dwell among the Hindus.
Sometimes the magical guide is an aging hippie twisted up in front of a computer. Sometimes she's a pierced young woman in dark glasses. Sometimes he's a truck driver in paint-spattered work clothes, sometimes a grey-bearded farmer in Ohio. From one to the next, they've helped me along. When people ask if I'm alone, how should I respond? I am by myself for the long miles, working the passes, but am I alone? Everywhere I have been greeted with such warmth, openness, offers for help. People say I inspire them, but I suspect they do not fully understand that they inspire me in equal measure, perhaps more.
Buoyed by another instance of the road providing for my needs, I shopped at the local organic grocery store--Cid's Food Market--and encountered Kayla again. I would see her one last time in passing at the ashram, to which I pedaled after shopping.
Neem Karoli Baba Ashram. I crunched down a gravel drive and found myself in another world. A web of stone paths branched out from a loose fence of weathered vertical poles. A pair of young, very dark men stood beside a Jeep and spoke in accents heavy with the sounds of Africa--or so it sounded to me. A young boy of East-Indian descent exclaimed at my bike as did his mother. I asked her about the person in charge and eventually found Chris, one of the caretakers. Enthusiastic, himself a veteran of a trans-American peace walk, I received his blessing to camp behind the main building and an offer of food. I thanked him profusely and looked around the place.
The ashram and temple were of classic Southwest design--ringed with aspens, heavy wooden beams above windows set in deep, earth-tone plaster, ramadas covered in parallel branches, gravel and sandstone walkways leading to different corners of the property. Behind, where I would camp, lay an expansive grassy area. A cool, late afternoon sun cast long shadows through the trees, and the air was lightly scented with incense. I pitched my tent and quickly returned for food.
Chris had said that the temple was in the middle of a week long series of ceremonies for a string of nine goddesses, a gathering for one each night. This was a "low-key" event, he said, and for some ceremonies there could be hundreds of people in attendance. I passed only a few of the devout and picked up my savory dahl and spicy vegetarian masala. With loaded plate and bowl, I made my way outside to the long wooden tables. Simple food to be eaten in a plain, rustic setting--no linen or crystal, no fawning waiter hustling for a gratuity. Good food in the open air--what else could I need? That question was answered just as I sat down.
I had met her only in passing as I first came in. "Chooch," as she called herself, called out from across the gravel and walked toward me with her own bowl of food. Short, grey hair tucked under a warm knit cap, down jacket over a thick sweater, her eyes flashing with a quick intelligence, she said, "So what made you want to do it?" referring to my tour. I told her about my desire to see the country, meet people, invest myself in the journey in a more meaningful way. She seemed to like this response. What followed was a wide-ranging talk about life, my interests, the way physics and mystics are finding common ground.
Chooch called herself "intuitive" and a reader of hands. She said I had the hands of a musician and a good "writer's fork." I told her of my choice of the high road to Sante Fe. At this, she fished a coin out of her pocket, flipped it in the air, closed her eyes, then looked at the side facing up in her palm. "The high road can be dangerous," she said. "I wanted to make sure you would be safe. You'll be fine."
So I was. From the prayers of Midwestern fundamentalists to the insights of palm-reading, coin-tossing aficionados of the link between physics and metaphysics, I couldn't go wrong. I even had the Mormon angle covered. My diversified portfolio of spiritual support has rewarded me with deep dividends.
It didn't seem proper to attend the ritual that I did not understand, and I had not come here as an official member of the ashram and felt like something of an interloper. I retreated to my nylon shelter and listened to the chanting and music from across the field, the darkling sky grey and close. In the morning, I would take the high road to Chimayo, the Lourdes of the Southwest, beyond that, Santa Fe.
Two Little Inches
That's all it was on the map, a couple of inches, fifty millimeters, give or take. So much beauty and wonder, sweat and strain packed into the length of my thumb--big experiences in small packages. Beware the innocent map, pilgrim, beware.
Frost lay heavy on the ground, inside and outside the tent. I gingerly reached out through the mesh to check the temperature on my altimeter watch: 25 deg. F., coldest morning so far, but the sun was rising and so should I. These long nights were starting to remind me of winter tours in the desert. I thought of Jodi and home with a sharp sense of separation and got to work packing. Although I could not rush our reunion, I could take another step in that direction by getting this day on the road. I shook the heavy icing from my tent, resolving to dry it out later.
Before leaving, I needed to use the restroom. Next door was an open room with broad windows facing the glassed-in veranda. Inside, Chris, looking a bit pale, bearded and sitting cross-legged on the floor, carefully pumped a hand organ with one arm and sang a haunting song in a clear, melodious voice, all in a language utterly foreign to me. The sounds floated through the room, and for a moment, I stood enchanted. There was warmth in the building, but there was warmth, too, in his song. I stepped out into the freezing dawn and bid the Hindus farewell.
Later, while out on the road, toes numb, I thought about my experience at the ashram. The quiet lane, the the forest, and my rhythmic movement were good motivators to my own style of meditation. I thought how strange and wonderful it is--sometimes terrible, too--that human beings have found so many different ways to fill their days. Several of the non-East Indian Hindus I saw were rather grimly serious young white males who did not seem to speak and hardly cracked a smile--or any expression, one bearded fellow in particular spending his time walking to a fro, a shawl draped over his head and shoulders, spinning a prayer drum. With a wooden handle and weighted beads on strings extending from the center of a blue cylinder, the faithful could keep the prayers written on the drum in constant motion by wiggling his wrist, a sort of fully automatic prayer gun. Walking, spinning, walking, spinning--not unlike an elite cyclo-tourist. Like me, did this peripatetic acolyte sometimes curse the wheel? Did he cry out in joy upon some new revelation it had bestowed upon him? To what places did his rotating supplications take him? I would never know.
So I fill my days with musings, a cycling mendicant of sorts, a seeker bound for a vision out of reach. Or perhaps not. My Sunday, my day of worship led me into the mountains, higher and higher above Taos, juniper and cypress giving way to tall pines and huge stands of iridescent aspens. Great pools of gold washed over the slopes. I could not keep my eyes off them. The wind in their quivering leaves was all the prayer I needed. Indeed, their Latin name, populus tremuloides, rings like a poem and speaks of their gentle dance on the wind. These were the jewels in the heart of the lotus. What else? Higher and higher still, the mountain tested me, probed for weakness. Would I be found worthy? Little did I know that the pass was only the first of many to come. Time and again I would push for the crest only to plunge and climb again these enormous waves of a topographical sea.
The small villages followed one upon another--Vadito, Penasco, Las Trampas.... The last, Chimayo, was feeling too far off, the day rapidly reaching retirement age. My left knee was giving me some sharp pains, pulling down my spirits and rising my anxiety. I dreaded some terrible tendon injury, a failing of my body that would end my dream. No, stop it. You've come this far, over 3,000 miles through terrible winds, heat, ferocious climbs--you'll make it. This is only a temporary complaint brought on by too much climbing. Yeah, that's it. But my physical complaints could not diminish the beauty of the day, the glowing white clouds and sky of pure blue. On with it, then.
Later, atop yet another climb, I had the brilliant idea of stretching. I'd taken an anti-inflammatory with my noon meal, but I'd not done much stretching. What an idiot am I. Right away I felt better--a lot better. I resumed climbing with little discomfort.
After a while, I had to laugh at the relentless nature of the hills, cresting one after another between 7,000 and 8,000 ft. Perhaps I'd have my yellow jersey taken away because of a doping scandal, but I was determined to continue. To the east, high speaks broke free of the trees in grey pyramids draped with storm clouds and curtains of rain. Clouds, blue sky, storms, a full day on the high road to Sante Fe.
At last I topped what I believed to be the last major climb and pedaled into Truchas, a wind-bitten settlement on the edge of the mountains. Thousands of feet below lay Chimayo, lost in the folded foothills. A dark cloud hung over the town, and a chill breeze came off the high peaks and cut through the main street. I stepped into a tiny market and looked around to get my bearings. Weathered and worn bare wood floors stretched back into dark corners. Most of the shop was unlit. I could barely make out the cans on the shelves, and none of the refrigerated cases had light either. Next to the beer case, a card board cutout of a sexy young brunette in a tight bikini promised hot sex if only I'd drink Bud Lite. I peered into the murky depths of the case, pulled out two Coronas, and waded back through the darkness to the counter.
Dark skin, dark eyes, feeble dark soul patch under his chin, the clerk of the shadows looked up as I approached. I asked him where I might camp for the night. He stared at me like an iguana drunk on Valium. After an incredibly long pause, he said, "You mean, like camp out?"
"Yeah," I said," I'm on a bike. Where could I go and not bother anyone?"
Another...very...long...pause...
"Maybe up on the mountain?"
This was going nowhere and getting there quickly. I dropped the first line of inquiry and tried something simpler.
"I need some water. Do you have a sink or a faucet I could use?" This was an easy one, a problem with a solution served on a platter. No differential calculus here, no sir. Of course he had a sink, all buildings like this do.
He stared at me, looked out the window. C'mon, man, you can do it. REALLY, this is a no-brainer. I briefly considered another question for him: Would you like to have sex with an armadillo? At last, eleven years later, he said, "You can try across the street. He's got some water."
I almost lunged across the counter to slap him silly. I paid for my beer and stepped outside. The gallery across the street was closed. Then the stupefied reptile came out of the store, locked the door, hopped on an ATV and roared out of sight. I looked up and down the street, felt the cold wind on my face and wondered where I was going to spend the night. This place was dead. Rigor mortis had set in. The coroner was on his way. Time of death? I didn't care. Of course, there was a charming rental available down the street, complete with cracked windows, split and sagging dull orange stucco, peeling paint and rank weeds on the march to reclaim lost territory. Reasonable rates, no doubt. We needed to leave this carcass behind. C'mon, Mojo, let's get out of here.
We started down the long ridge that would take us back to the desert. Going slowly, we paused here and there, eyes sharp for a possible camp. Scotty boy, you can solve this problem. There's a place somewhere to camp on this ridge. A cemetery was too exposed, the land nearby lumpy and sloping. Down, down, down--there. At points along the ridge telephone poles were placed in flat areas with dirt access from the main road. The first I explored was so thoroughly trashed that Mojo and I backed out in disgust. Every pull out we'd seen recently had some of the same treatment, locals dumping trash all over the place. The second pull out was trashed as well, but there was one possibility. To the east and below I discovered the decayed remains of an old paved road, a now disused section of the main route. The black top was broken, cracked, run though with grasses and turning to sand, the center yellow line almost gone. The top section of the road ended in a berm and a flat, sandy area. Only a few plastic bottles sullied the scene. The site was below the level of the road with a mind-blowing panoramic view of the mountains in full sunset glory. Home sweet home. Mojo, let's do it.
My lodgings assured, dinner was hard on my mind and stomach. Fortunately, I had just enough water for the task. I cracked one of the beers and got to work. My recipe: Potato, broccoli, chicken sausage--into the pot with the lot of you. Gawk at the mountains while the pot simmers. Add olive oil, garlic, salt, pepper, onion flakes, top with grated Parmesan--food, oh my God, food--the great, deep pleasure of eating after a day of mountain climbing on a fully loaded bicycle. Animal joy, sustenance, calories, sweet, salty, savory, bite after bite I worked through the big pot of food and scraped it clean--twice--with pieces of sourdough bread (the carbs! the carbs!). I finished off my last piece of Dagoba dark chocolate spiced with chili. And I had an apple. I knew no shame, no limits.
All around the sky bruised and flamed, poured tears from October's heavy clouds and swallowed the sun in a final gluttony of raging orange.
Chimayo, Sante Fe, and a Rainbow Vision
I believed I had an easy day to Santa Fe. If you want a laugh, tell the gods your plans. In my innocence, I let the sun chase me out of the tent, a first for many, many weeks. I discovered that the mountains had not moved and that sunshine is a good thing. I lazied about my chores and didn't set off until 10am, a truly slacker start.
I screamed down the mountain, a bit of a shock first thing in the morning, and before long I was sliding through sinuous arroyos under brooding hoodoos. I turned towards Chimayo and discovered a true gem, a delight not to be missed by travelers in this region. Set deeply in a red stone canyon, the focus of the town is the ancient church, the Lourdes of New Mexico, with sacred earth that is said to cure the sick. My knee had already recovered, but I was happy for any prophylactic healing to cover the rest of my trip. You can never tell when you'll need some extra insurance.
Twin adobe towers hold wooden crosses aloft, calling out to the faithful. I stepped into the natural light streaming through windows in the thick walls. Red tiles led me into the inner sanctum, a humble place with paintings depicting religious events. To the right of the doorway stood a striking wood carving of the suffering Jesus, a stark, evocative figure that demanded attention, the sad eyes staring out of a dark wooden head. The hands had especially long, bony fingers that spoke of suffering as well as the eyes. All in all, a grim, serious icon. I had walked obliviously past a sign that said no pictures and took two before someone alerted me to the prohibition. My illicit photographs appear below.
After my visit to the town, I enjoyed a long, winding ride through juniper desert lands, more dry washes and intriguing cliffs. Most of the land seemed open to the public. It would be fantastic place to hike. I filed that information in the mental rolodex for future reference. My wild country riding ended when I reached Hwy 25 and picked up a frontage road for my long run south. This was a true Cadillac frontage road, wide, smooth, virtually no traffic. A long series of rolling climbs took longer than I expected, but at last I turned onto Old Bishop Lodge Rd. This led past one beautiful home after another set in a quiet valley separate from the main highway. Of the properties for sale, most seemed to be listed by Sotheby's, so I knew that if I had to ask how much? I couldn't afford it. It was nice to fantasize. The road, however, contained a lot of climbing, and I was starting to work extra hard--no easy day this! But I wasn't to be stopped. By 3pm, I was rolling into the Plaza in downtown Sante Fe.
I'm a big fan of Southwest architecture, so the homes and businesses all appealed to me. The town was crowded with tourists, me included, but the very center of the Plaza had portions off limits to automobiles. I puttered around, had a late second lunch/early dinner, and headed off for Steve Kerr's place on the southern edge of town.
After some struggles with one way streets, I picked up a designated bike route and made good time to Rainbow Vision, the condo community where Steve lives. Steve is the uncle of Ann and her sister, Gay, in Cleveland. When I told them I was traveling through Santa Fe, I immediately had a contact. The community of Rainbow Vision is an upscale development of pueblo-style condos and some apartments with a new point of view: The developers have marketed the homes as a special place for gays and lesbians, though, unlike eHarmony, they are not discriminating. As one fellow said, "We're straight friendly!"
Some of you may raise an eyebrow at this considering my experience in rural Illinois. That bloke was a sad case. As I said, I'm happy to associate with all types and, frankly, I find the different perspectives invigorating. I couldn't have asked for better references than Ann and her sister. Steve, a cyclist himself, is the consumate gentleman and a perfect host, giving me the run of his home and taking me around town for errands, too. Everywhere I've been in the community I've been greeted like an old friend. After meeting the people here, all of whom seem to be accomplished professionals, some retired, some not, I can see why they want to live here. Gay, lesbian or straight, the energy is warm, inviting, and relentlessly friendly. I could see, too, how having a place that is predisposed to accomodate different orientations would be very nice. No one is offended or finds it strange if you give your partner a hug and call him or her "honey." Home should feel safe, and Rainbow Vision goes out of its way to make that possible.
Mostly I've been doing not much. Steve and I went out to Harry's Road House cafe for a fantastic lunch. I was in heaven when presented with a grilled chicken tostada overflowing with fresh greens, avocado, chicken, fresh salsa--a huge, elite-cyclo-tourist-size portion that left me waddling a bit as we made our way back to Steve's car. If you go to Santa Fe, don't miss this restaurant.
Mojo's got a new set of shoes. I've installed new tires shipped by Bent Up Cycles to Steve's--thanks, guys! I couldn't find a slime tube for the smaller front wheel, so I purchased "Tuffy" liners to guard against thorns. We'll see how that goes. Tomorrow, it's back out into the wilds, south by southwest. I'll be in Arizona in less than a week if all goes well. I may be going dark for a few days, so fear not. I'm still out there plugging away, slapping black top into submission on Mojo, the super Street Machine. The Wild West is an unpredictable place--straight, bent, you never know where it will take you.
Biker Scotty signing off from the Frontier of Human Powered Adventure in the Great American Outback.
Photos from the journey:
The ashram: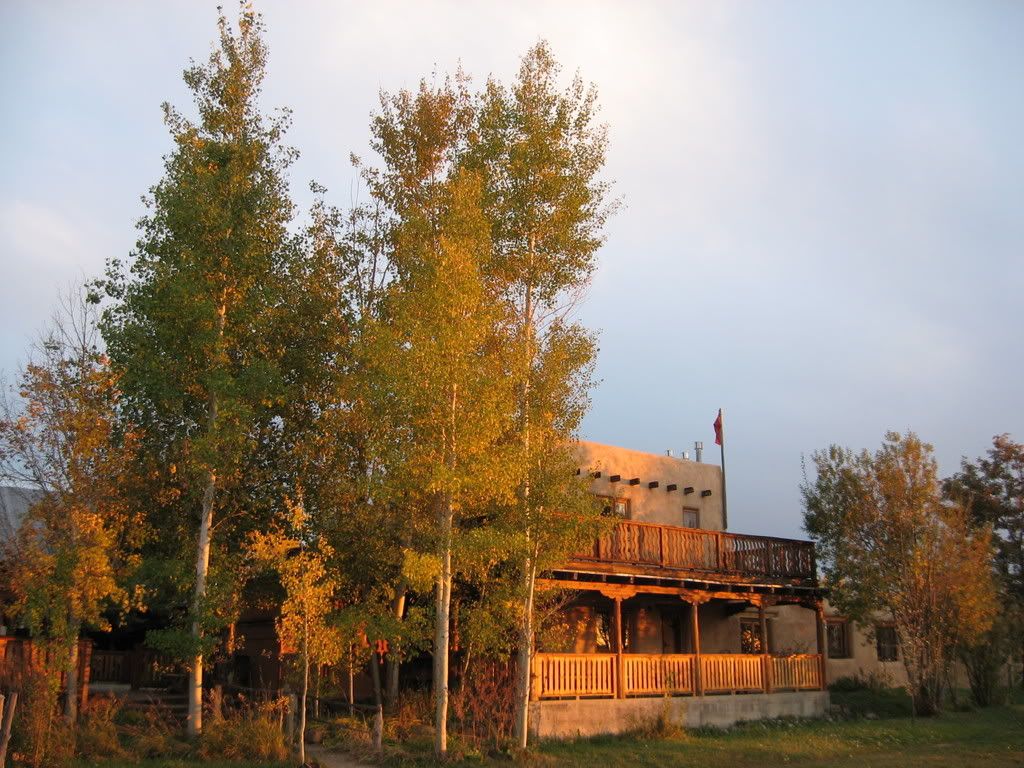 The ceremonial fire pit:
View from the big climb: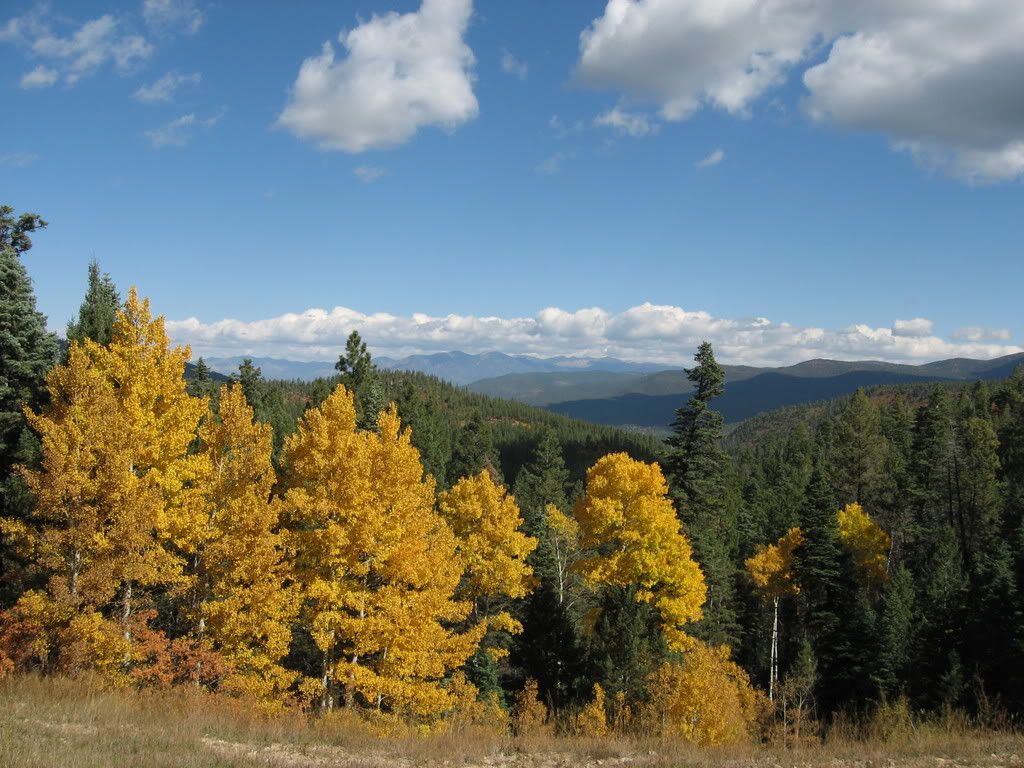 Into the first valley of the High Road:
My typical situation for the day: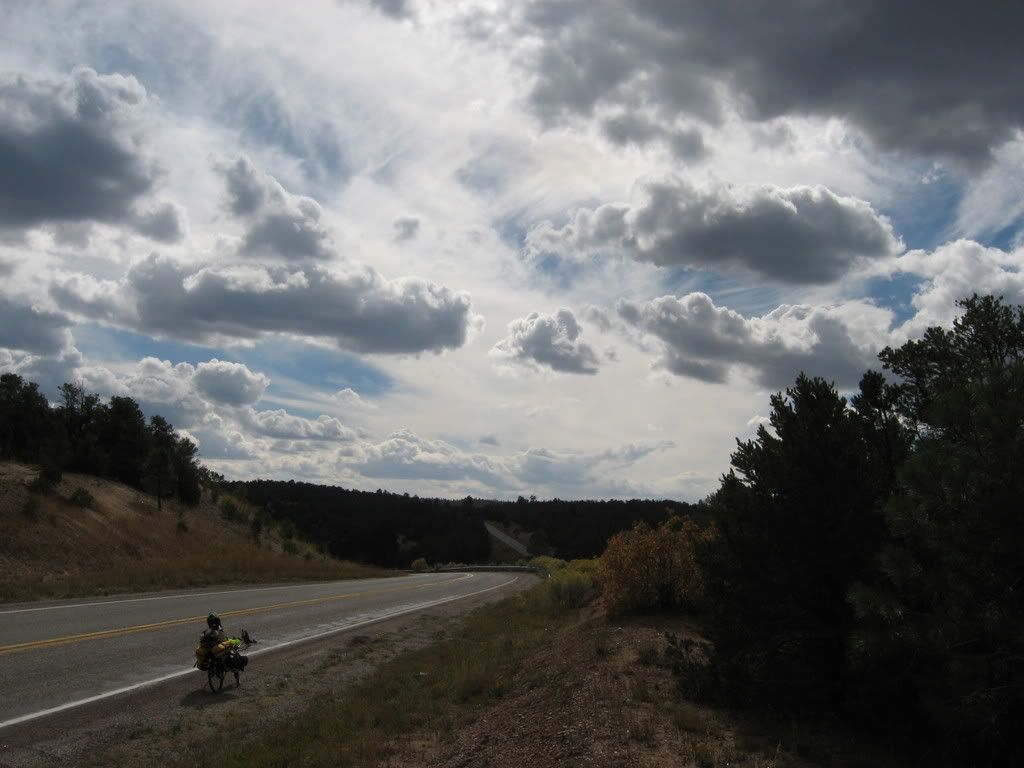 Camp below Truchas: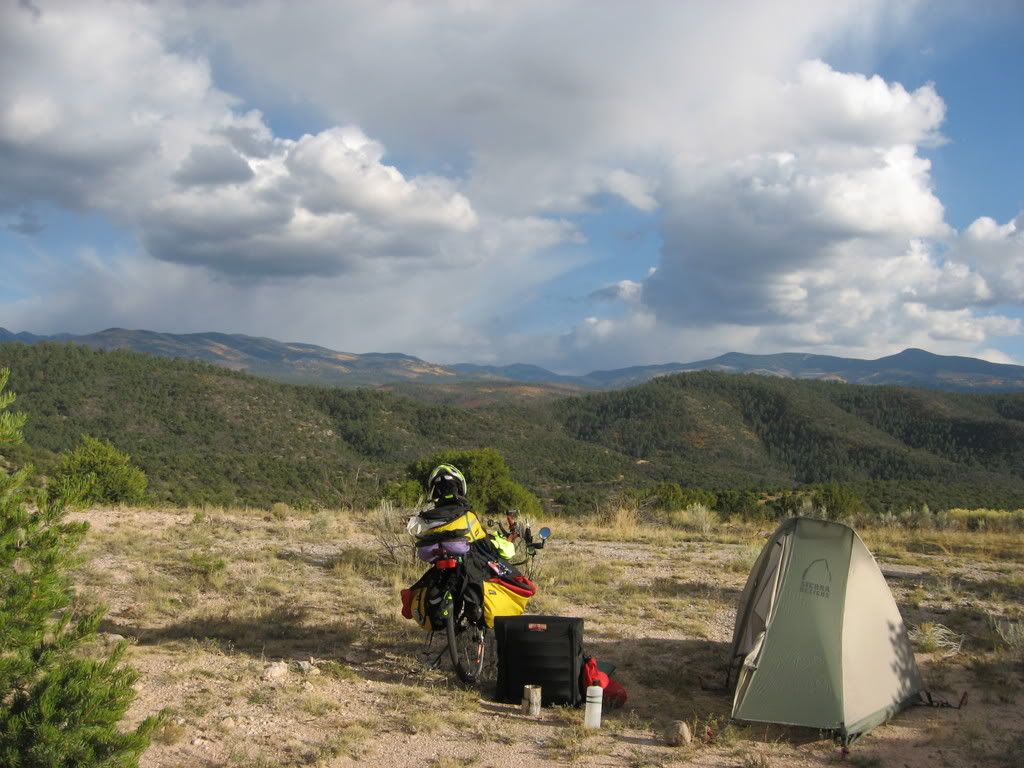 The Sanctuario in Chimayo:
Hoodoo that voodoo?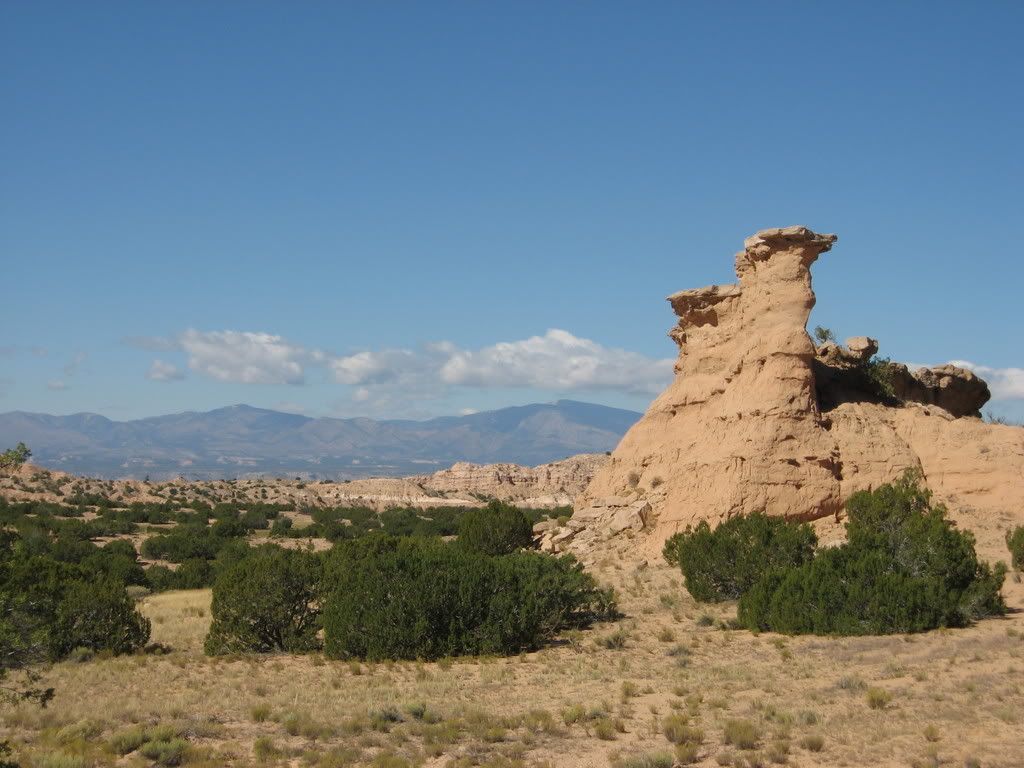 Low-end real estate near Santa Fe:


Steve's condo: