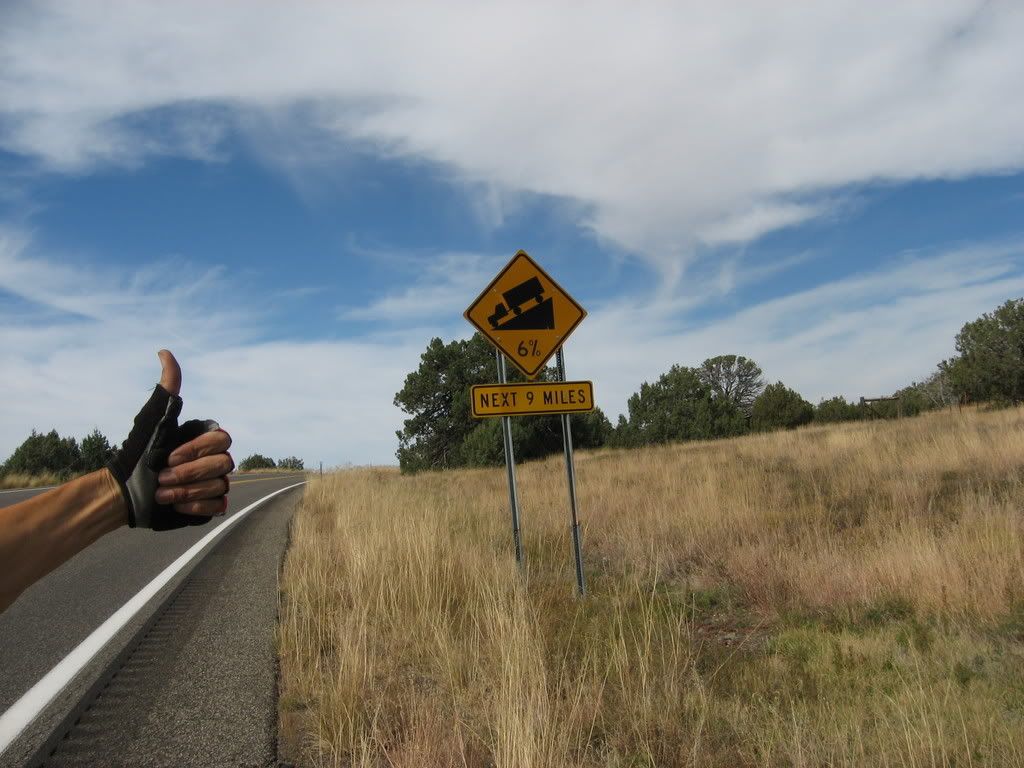 A line of pines presented a dark edge to an expanse of pale, late season grasses that ascended in waves to some unknown summit above me. The afternoon sun banked off the road and into my eyes, sweat running down from under my helmet. My legs, by some incomprehensible miracle, kept turning and churning, muscles, bones, cartilage, tendons that have carried me across the continent and put up with too many ridiculous demands. Good legs. Can't forget to thank them. Better send a card for their birthday.
The White Mountains were my first test in Arizona. No snow yet, so they were shimmering gold and piney dark green. Route 260 was my path across some of the highest terrain in the state, a fact seemingly little known to National Forest Service employees I'd left behind. A wild-eyed bike rider flying high from the wide lonesome of New Mexico, I'd rolled into Springerville, Arizona, needing food and information--in that order. An attractive Mexican place soon caught my eye. A huge celebratory Chimichanga with south-of-the-border brew had a very short life expectancy when I walked in. I cut an odd figure among the small town locals, a pair of police officers and their friends, others dressed in casual jeans, t-shirts. My Chernobyl-green jersey clashed with the Old West decor--replica lever action rifle, horse shoes, the usual iconography. For such a short period of history, the Western mythology has tremendous staying power and commercial value. I suppose my cycling togs and clacking shoes were no greater an affront to the "Old West" of the place than the ubiquitous Budweiser advertisements.
After lunch, I headed out of town and stopped at the Forest Service for that much needed information...
Beware, cyclo-tourists, elite and otherwise, beware the women at the National Forest Service information center in Springerville, Arizona, for they know not of what they speak!
Let me preface this brief tirade with the comment that Rt. 260 from Springerville to Show Low is well worth riding. As indicated on state maps, the road is indeed "scenic"--lots of trees, open glades, the occasional view up to forested peaks or down into valleys. No quibbles there. She's scenic all right. I enjoyed the ride immensely although riders should know that traffic could be an issue during peak vacation periods in the summer.
But, and here it comes, I went into that office seeking not to confirm any aesthetic merits Rt. 260 might possess. No, dear readers, no. I wanted specific information concerning my chosen path. Consequently, I asked a few specific questions, such as 1) How far is it to the turn off to the campground that the attractive employee suggested I use? And 2) Do I need to be concerned about any major mountain passes? In other words, what kind of climbs was I going to face?
To the first question, the slim, blond one answered immediately, an indication of certainty and familiarity with the route in question: "Fifteen miles." To my second query she had the presence of mind to first ask if I were an experienced cyclist, implying that my fitness level would be an important consideration. That I had already told her I was cycling across the country should have been a clue here. Regardless, I replied in the affirmative. Then she paused, deep in thought, her eyes looking at some unspecific point over my right shoulder, scanning the interior of her mind like Data in Star Trek: The Next Generation. "I'm trying to visualize the road," she said. "No," she said, finally, "there isn't much climbing on Rt. 260. It rolls along, kind of up and down to Show Low." I then asked about Highway 60, the alternate. They were both emphatic that it was much, MUCH worse, with a huge climb mid-way. Thus reassured and assisted by these two helpful, friendly women, I set off confident I would reach camp before too long.
I did indeed reach camp, but it was not due to any overload of excellent information. Rest assured. These Forest Service employees were so utterly, totally, completely, amazingly, astoundingly, staggeringly, egregiously, mind-bogglingly wrong as to nearly defy my ability to apply a proper string of adverbs. For crying out loud, ladies, what the hell were you thinking! Don't you ever get out of the office and actually see the forest you are supposed to know? Good God!
First, this one in my favor, the turn off was about ten miles out of town, not fifteen. No big deal. Pleasant surprise. But again, a clue, eh, Holmes? And the climb, you ask with white-knuckled anticipation? Biker Scotty, what about the climb? By the time I finally reached the summit, I had powered through a good twenty miles and ascended over 2,400 ft. to probably the HIGHEST PAVED PASS IN THE STATE (emphasis mine) at over 9,300 ft.--higher even than Ponchas Pass in the Colorado Rockies, a saddle ringed by 14,000 ft. peaks. Now, one can easily imagine higher passes--the Upper Saddle on the Grand Teton and the South Col of Mt. Everest come to mind--but give me a spoke-busting break. How is it possible that she, an employee charged with knowing key information about the National Forest visible from her back window, didn't know even this most basic, fundamental topographical fact? Simply amazing. Such ignorance should be criminally actionable, if you ask me. Maybe a civil suit? Her powers of visualization must be dim indeed. Harumph.
Before the summit, I spent two nights in a deserted campground outside Greer, at 8,500 ft. After all the climbing from town and late in the day, I was feeling grumpy, ornery, feloniously inclined towards incompetent government employees. For the first time in weeks, some moron had honked at me in anger for being on the road. I descended from Rt. 260 towards the campground, and all I could think about was having to climb back out. My cranking was making me cranky. I'd come to recognize this end-of-the-hard-day condition. Worn down and strung out, ready for a camp that seems out of reach, I get short fused, impatient. Zen goes down the toilet.
I climbed again and at last found my campsite. I rolled through weakening, low-angled sun to my camp set in tall pines next to a small lake and meadow of dry tawny grasses. Deserted, empty, not a solitary soul, no RV's, no host, just Mojo and me, the lone cyclist, castaway, the last camper on earth, Omega Biker. The cold, with its long, probing fingers, began to search out my weaknesses. The sun was already low in the trees to the west, so I could not linger in my chores. Get that tent pitched and dinner on the stove. Before long, I sat down to my solitary meal in the trees in the White Mountains.
So was I lonely sitting alone at my table in the cold on this late October evening? Indeed. I missed having Jodi to share my thoughts about the struggles of the day, compare notes. We would not be curling up in the tent together to ward off the high altitude chill. Django wouldn't be snuggled up at our feet, his sharp ears ready to detect any intruders. But I wasn't completely alone. A line of honking geese banked in from the north in tight formation, bound for the water beyond the trees. I could hear the beating of their wings as they passed over in the closing darkness. Somewhere, lost in the forest to the east, bull elk called out challenges in their other-wordly trumpet, a haunting sound of the wilderness strange to my ears. We made a congregation of sorts in this temple of the woods--my rattling thoughts, the scratch of my pen on the note pad, the fading sounds of wildlife. As I at last settled into my bag and prepared for the long night ahead, coyotes howled and yipped and picked up the song of the mountains in autumn. They understood the value of a rising moon and told me I was not alone.
So passed my introduction to the state of Arizona. Too much more to tell for my little blog. You'll have to wait for the book to get the full story, but since my camp in Greer, I faced some bad traffic through Show Low and further west that is fueled by incredible amounts of development. Arizona in general is turning out to be less cyclist friendly than New Mexico. Since the Californians have invaded, what can you expect?
I eventually made my way, with much roady savvy and diligence to the edge of the Mogollon Rim depicted in photos below. I took the dirt road connector, which a local told me was "mostly flat"--ha! Yeah, right. Try 2,500 ft. of often steep, loose climbing. Still, the photos show why it was clearly worth doing. I want to try more dirt riding on Mojo but with proper shoes--wide, soft mountain bike tires. I did well nonetheless and did not push the bike at all. It was some of the hardest riding of the trip. Ugh! Although not very clear in the pictures, some of the ride was through a vast fire, the Rodeo-Chediski fire. There are great articles about the fire at the
Cantor Law Group
website:
Rodeo-Chediski fire town meeting.

I battled extreme traffic to get into Prescott where I write these words and where I'll stay for a few days R and R. I was a whipped pup yesterday after almost 4,000 ft. of climbing, headwinds, and all the internal combustion madness. We're doomed, I tell you, doomed. Prescott is being loved to death, and I fear for her future. I love her still, and especially my friends here, but she seems headed for full-on Californication--of course with a veneer of plastic "Old West" lacquered on.
Although the fires in southern California seem to be settling down, I've decided to forego all the urban intensity of riding to San Diego and up the coast. From here, I'll head a bit north and pick up Old Rt. 66 through Peach Springs and down into Kingman. Then it's down to Needles and across the great Mojave desert along some pretty isolated, lone dusty roads--my favorite. I'll have a layover in Barstow, which should provide some "interesting" material; then I keep shooting west, both guns blazing, until I climb the mighty coastal ranges, about 11,000 ft of climbing three days, and drop like a stone into the Pacific near Ventura, end of the line, sweet, sad conclusion. In short, I'm almost done. You know you're a trans-continental cyclist when two weeks of hard cycling equates to being "almost done."
Since I'm in Prescott for a few days, you may hear more from me before I shove off. For now, this is a happily resting Biker Scotty signing off from the Frontier of Human Powered Travel in the Great American Outback.
Be well--or else!
Here are some photos from Arizona and New Mexico--in no particular order:
Atop the Mogollon Rim, Arizona: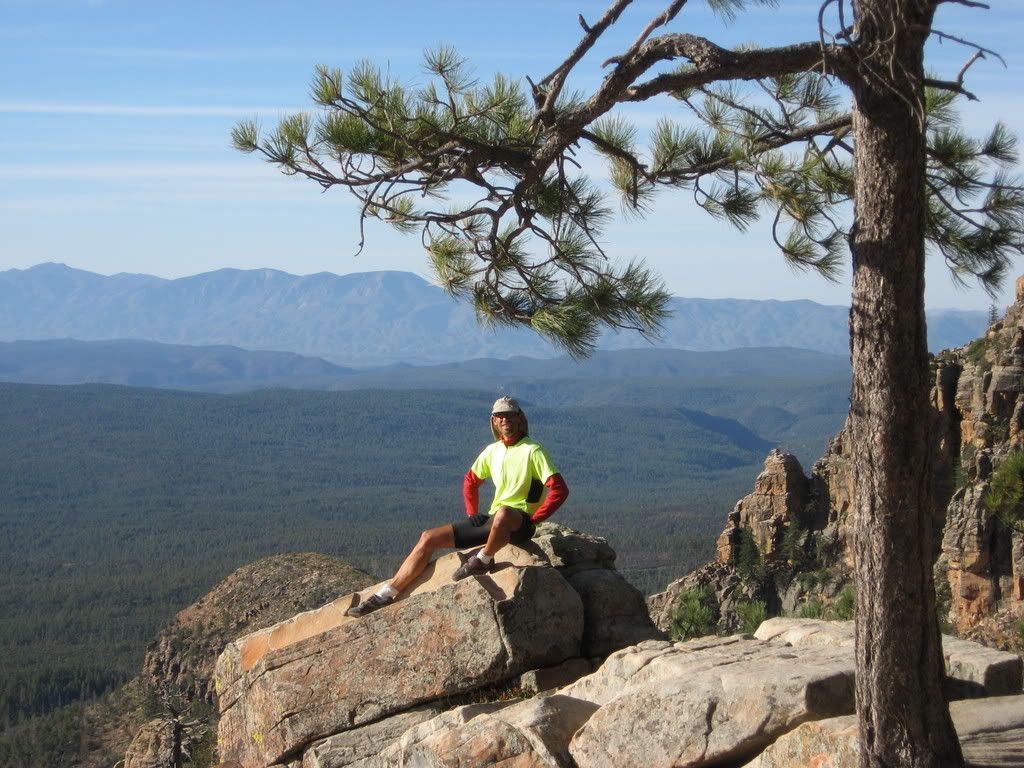 Enjoying the traffic up I17 towards Prescott, Arizona:
This? This is my incredulous face up on "Mega Pass" above Springerville, Arizona: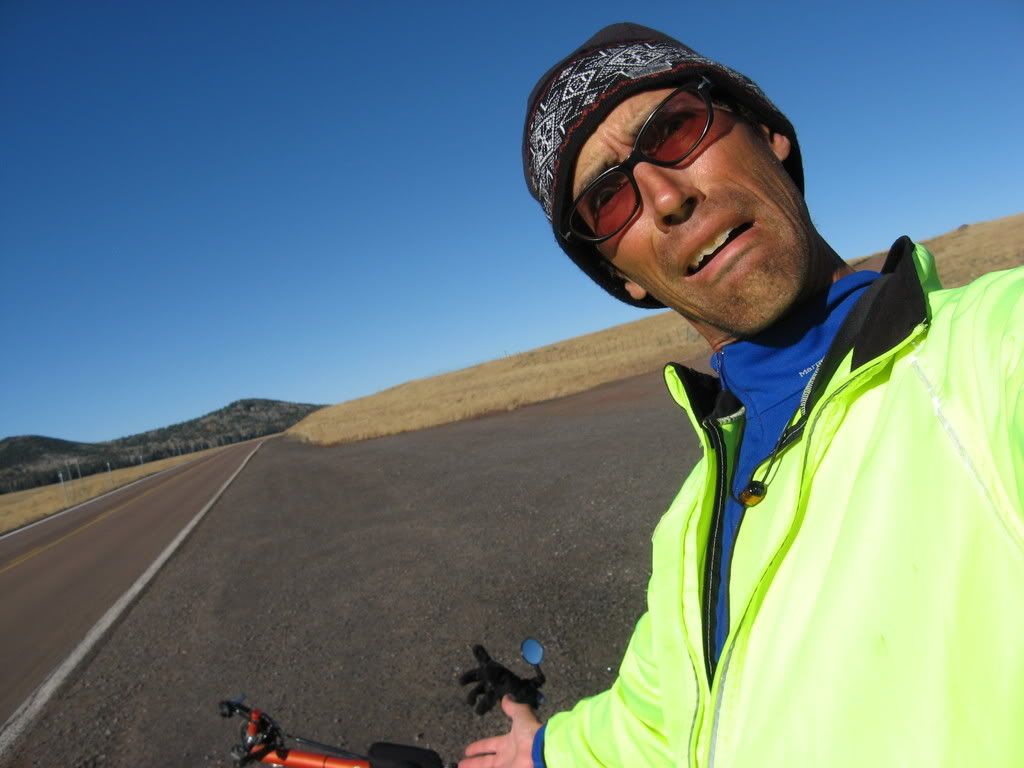 Pines and naked aspen near the summit of "Mega Pass," Arizona: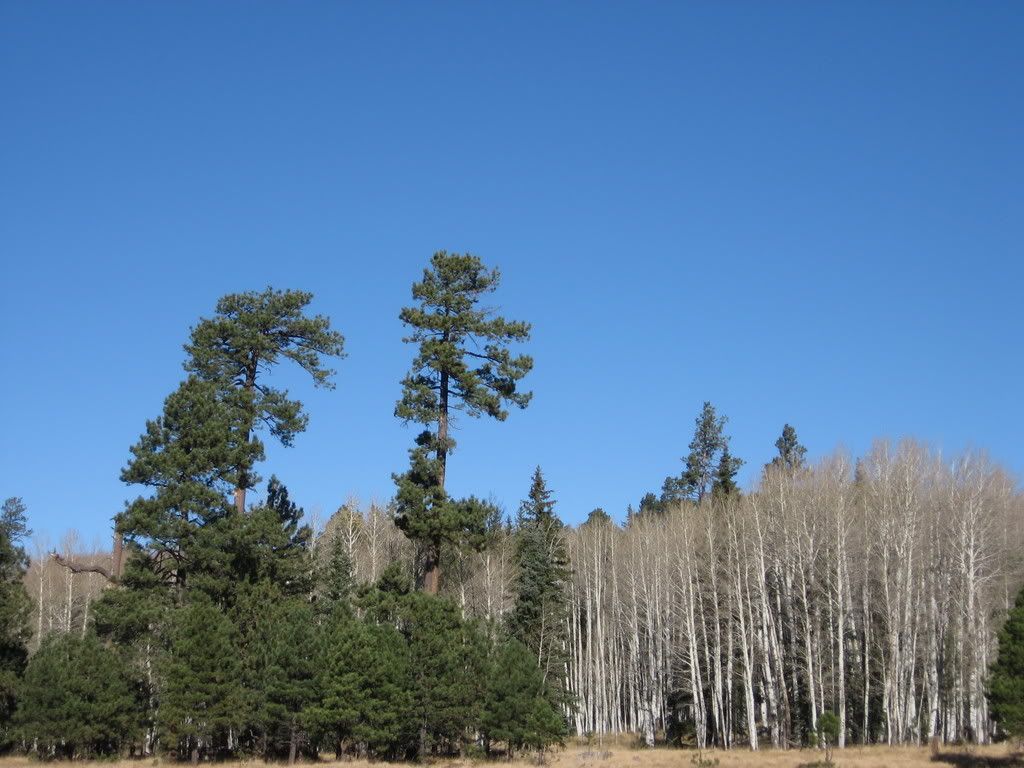 Mojo on the Mogollon Rim, Arizona--Sorry, Wombatgirl, this beats Ohio:
The Rim:
Hello? Is anyone listening? The Very Large Array radio telescopes in the incomparable Plains of St. Augustin, New Mexico. Carol C., this is for you. You were soooo right about the phone!
Pie Town, New Mexico, on the Continental Divide. One can, in fact, get some mighty good pie there:
The notorious, doomed chicky chimi and beer: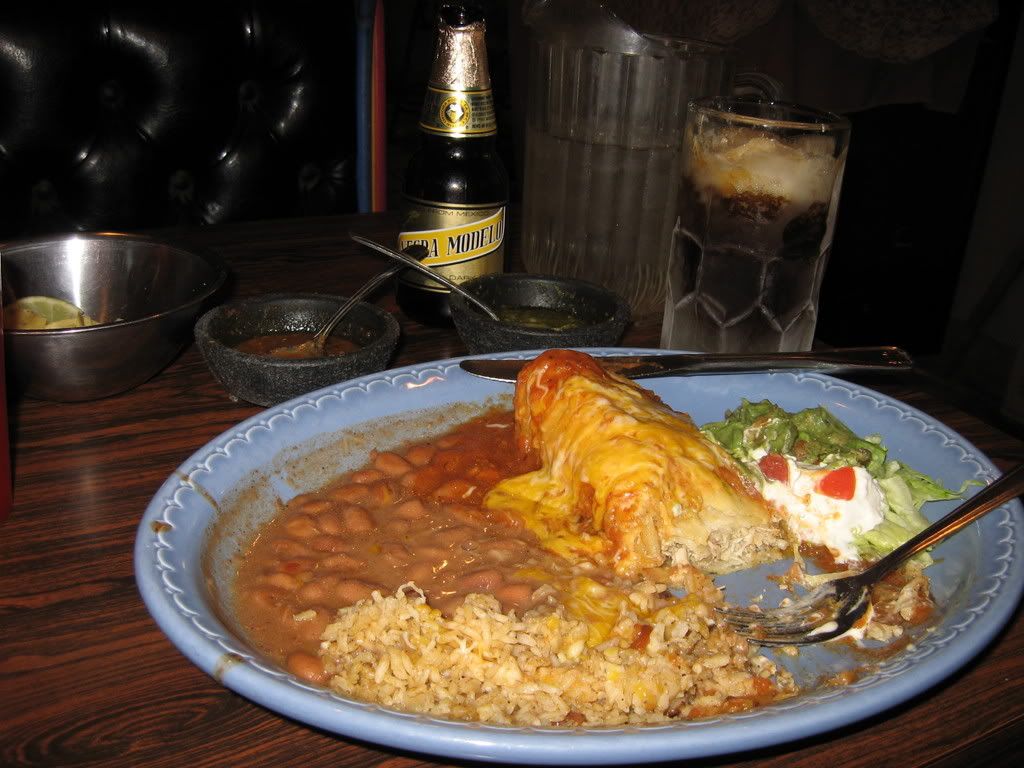 Open camping in New Mexico: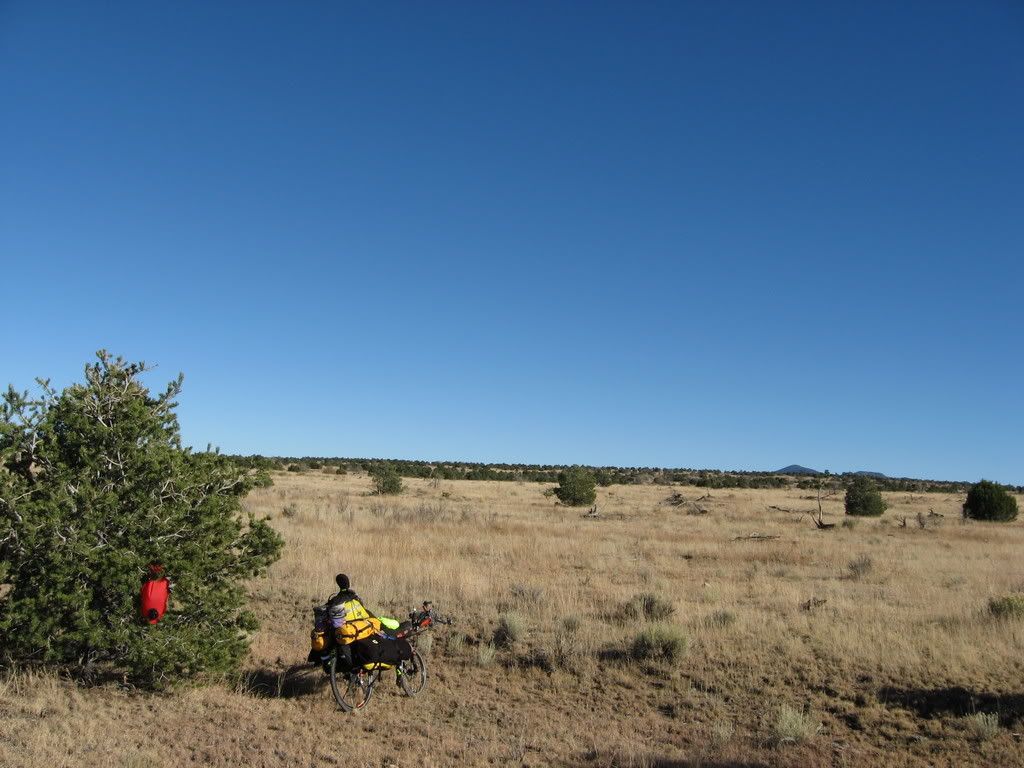 The Omega Biker contemplates his fate: