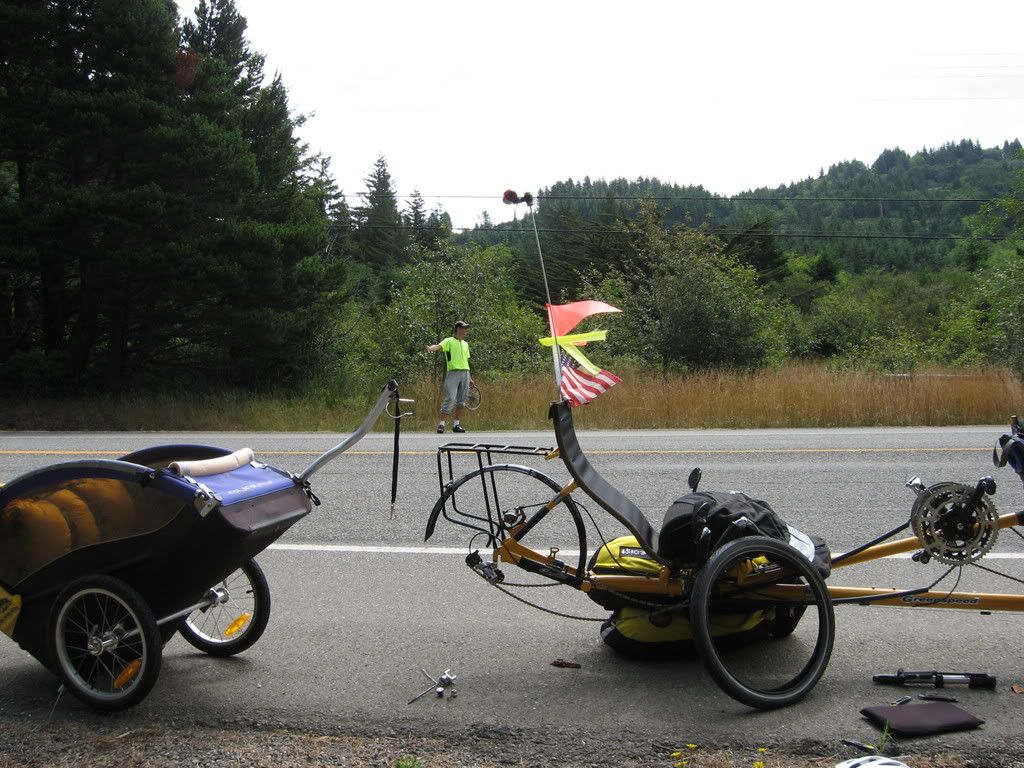 The tour that almost was is no more. We tried, we really did, but in the end, heavy traffic and equipment failure led to a premature end to this ride. I'll explain in more detail, but the final verdict is that the Oregon coast, for all its beauty and charm, just isn't a very nice place to bike tour. This may come as a shock to some. What?
Sacrilege
.
Blasphemy
. How dare you suggest such a thing. Let me explain....
While Jodi and I both agreed that we didn't have a bad time--indeed, we enjoyed much of what we experienced--the fact that most of the Oregon coast ride follows Highway 101 is a deal breaker. There's just too much bloody traffic to make riding enjoyable. I'm sure others have discovered this, but we had plans, and we'd ridden parts of the California coast before, so how bad could it be? Like everyone, we were enticed by images of tall, cool trees, a rugged, wave-battered shoreline, and average highs in the mid to upper 60's for July. Good grief, man, get me a ticket and get me out there! There's the dream, then there's the reality.
We knuckled down to the serious business of driving from south-central California to the Oregon/Washington border at Astoria. This involved driving our own vehicle with a disassembled tandem trike packed into the rear of our Subaru up to
Sonoma
county to visit friends and relatives then up to Crescent City where we would rent a one-way car for the second leg to Astoria. From the cool coast, we cut inland to Grant's Pass and the Willamette Valley. This part of the drive was beautiful and we camped a bit north of Eugene. It was warm, however, and getting warmer. After hundreds and hundreds of miles of driving, we at last pulled into Astoria under a startlingly clear blue sky--and
hot
. A mini heatwave was settling over the region. Astoria climbed into the low 90's as we assembled the trike and tooled around town, getting food for dinner and riding back to our motel. For
cryin
' out loud, we'd left the Bakersfield area to beat this heat. Don't worry friends: If you cannot make it to Bakersfield, Bakersfield will come to you. In a town devoid of air conditioning, we lived old school sweaty. Hang low, keep on the shady side, and wait for the flames to pass.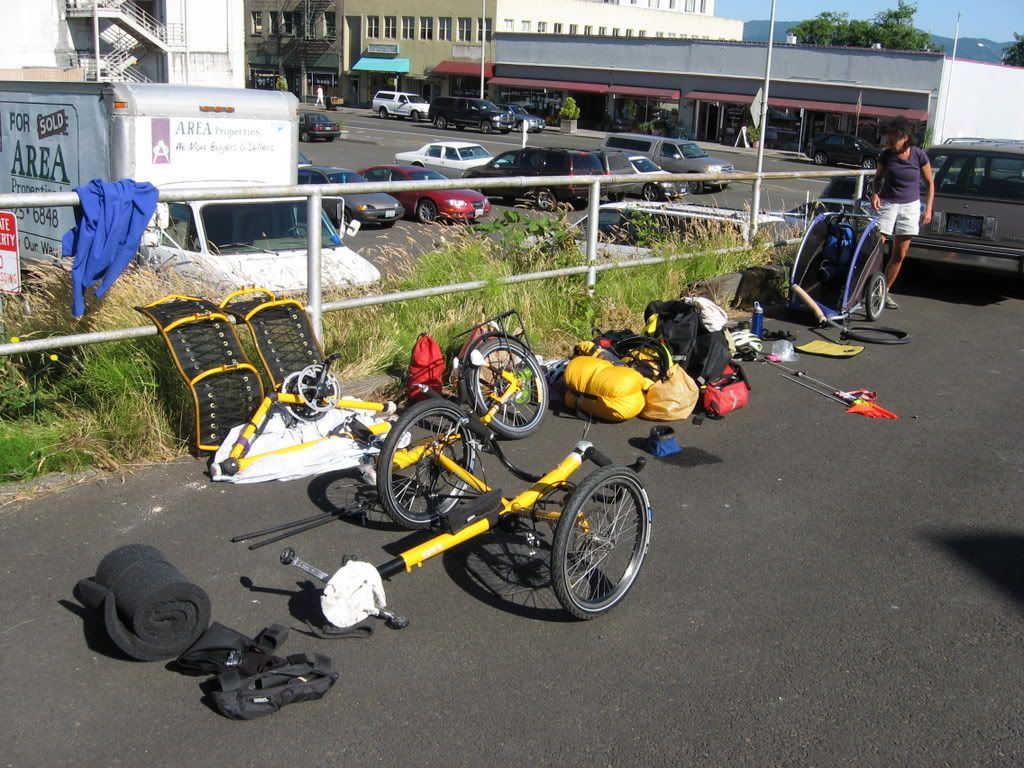 Just as we finished putting our trike together, we crossed the street to talk to some folks at a local cafe and bakery. This fine young couple were, like most, interested in our rig. They'd been in business for a few years and were totally
velo
-centric. They make all deliveries on a bike especially constructed to carry big, bulky loads.
We bid them farewell and went about our chores. We'd meet the rest of our team the next morning at the Astoria Coffee Shop. Our main job between now and then was to simmer in the record-breaking heat. Portland, we heard, broke 100 deg. F. Now
that's
Bakersfield.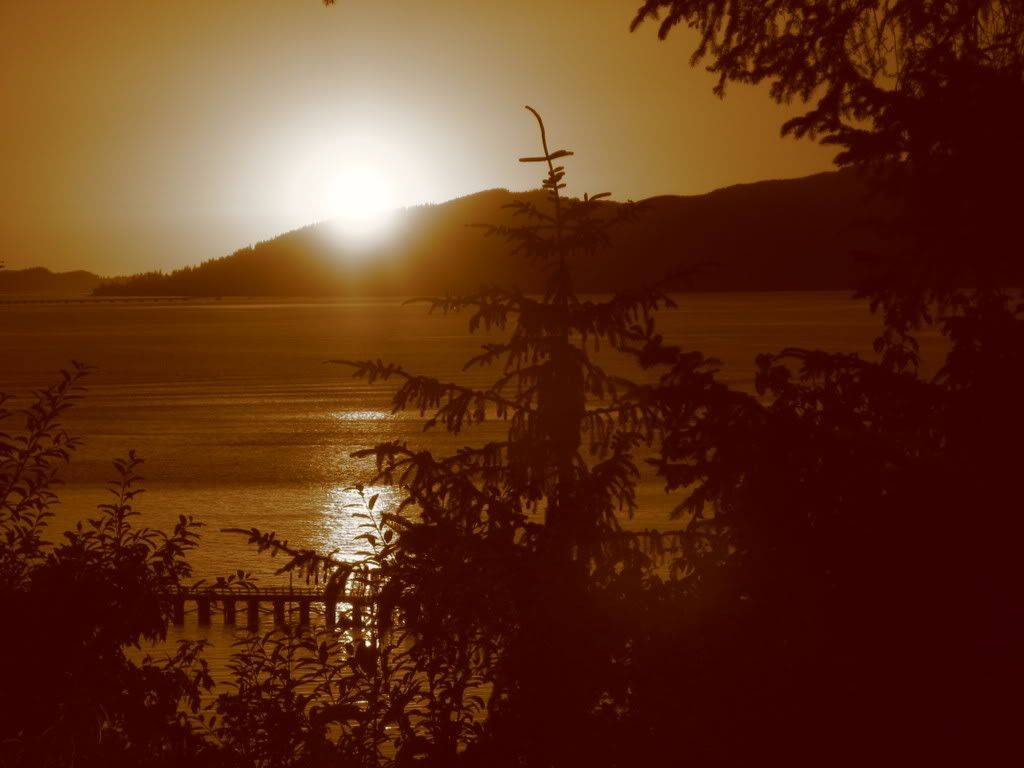 Some time during the night, our prayers were answered and the fog rolled in. We would be spared. We gathered at the cafe for
pre
-tour java and conviviality.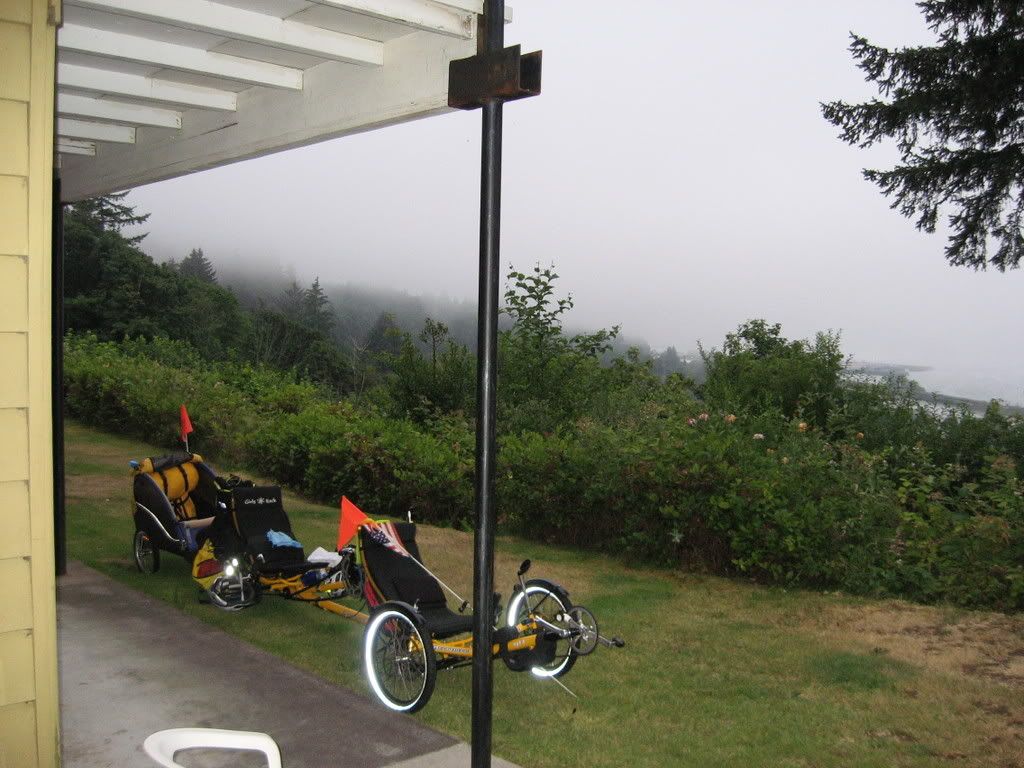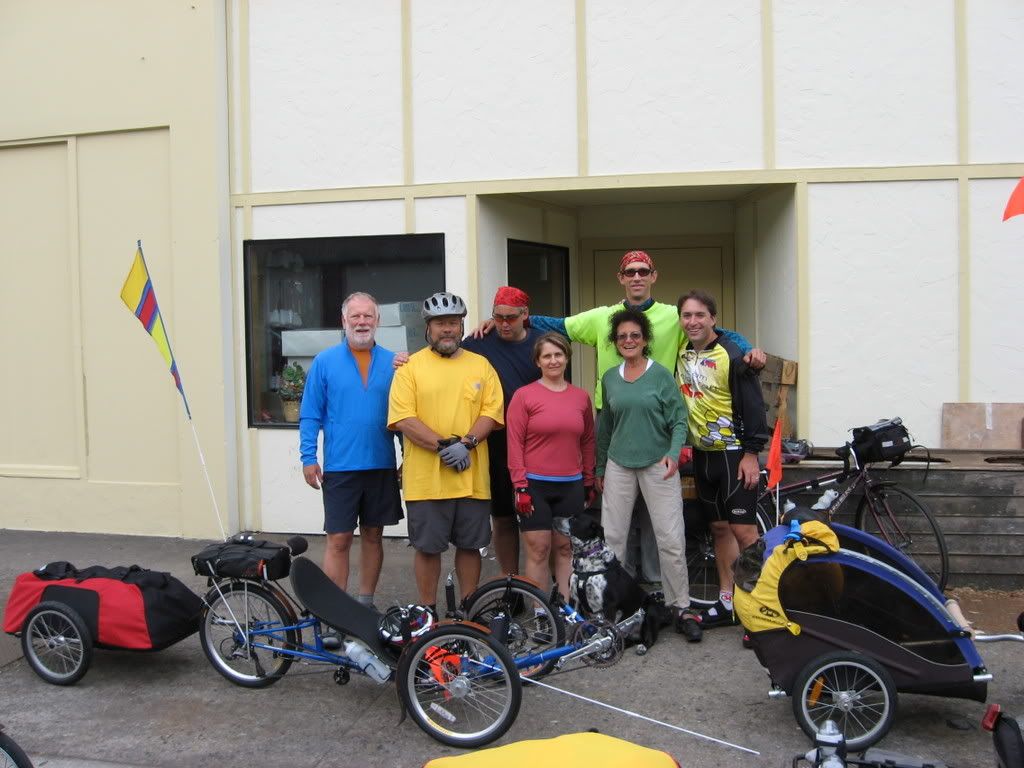 Left to right: Perry, Eddie, Neil, Peggy, Jodi, Moi, Dana.
Django
is the furry one at Jodi's feet.
We headed out at about 8 am under cloudy skies and sunny spirits. We were on our way at last. Fun riding through Astoria and across some bridges took us to some very fine rural cycling on the way to Seaside--quiet roads, wild flowers, and some sun as the morning progressed.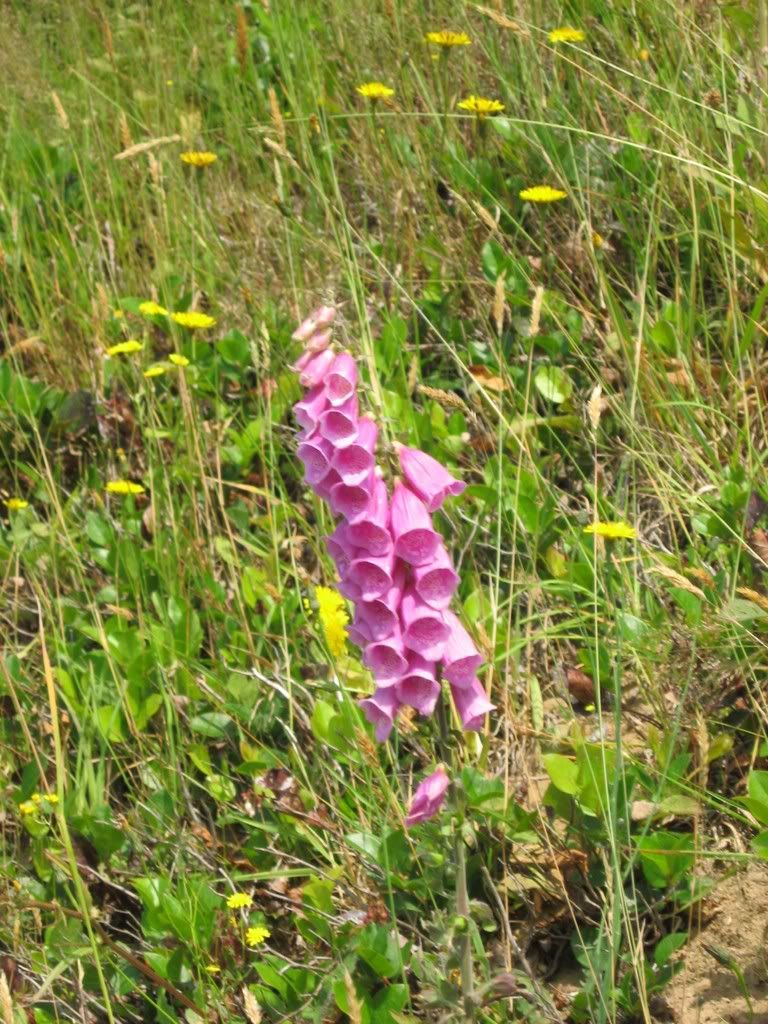 We made a couple of wrong turns but finally found ourselves dropping quickly to Hwy 101 and the curse of the automobile and prime July holiday season. Seaside was a tacky tourist trap having great success. The place was packed, countless people milling about, lots of "Shoppes" and such. We punched through town down to a coastal path and enjoyed a couple of miles of ocean views and relative quiet. After that, Hell 101, a course for those addicted to the constant roar of automobiles. The only thing that makes this road possible for cyclists is a generally wide paved shoulder. This, however, vanishes on many of the bridges, and, most fun of all, in the tunnels to the south. You haven't had real fun until you've plowed through a tunnel, uphill, on a fully loaded tandem trike with dog, traffic bearing down,
microencephalitic
camper drivers honking angrily.
Hooo
boy, let's do
that
again.
In general, the drivers were considerate enough. It was the sheer volume that overwhelmed us. Even at half the number of vehicles, which actually occurs mid-winter, this would be some unpleasant riding. We discussed the differences between Oregon and our California experiences. With some notable exceptions, the key difference is that much of the California coast follows Hwy 1, which carries very little commercial traffic, especially along Big
Sur
, and those drivers wanting to make good time have a fairly close, parallel alternative, Hwy 101, and, further east Hwy 5. On the Oregon coast, drivers have one choice--OUR bike route! Also of concern for the future is the pace of development here. Every single town on the coast showed signs of new building, custom homes and their ilk. It was relentless. This, of course, will only add to the traffic woes.
We pushed on, though, and hoped for the best. Whenever we left the highway, we had a blast. Perhaps the best way to cycle in this area would be to drive from place to place that offered these escapes. My favorite tourist comment from a woman who saw us ride by on
a fully loaded tandem trike--two sets of panniers, extra gear bags on frame AND a trailer with

doggie

and extra gear:
"Are you touring?"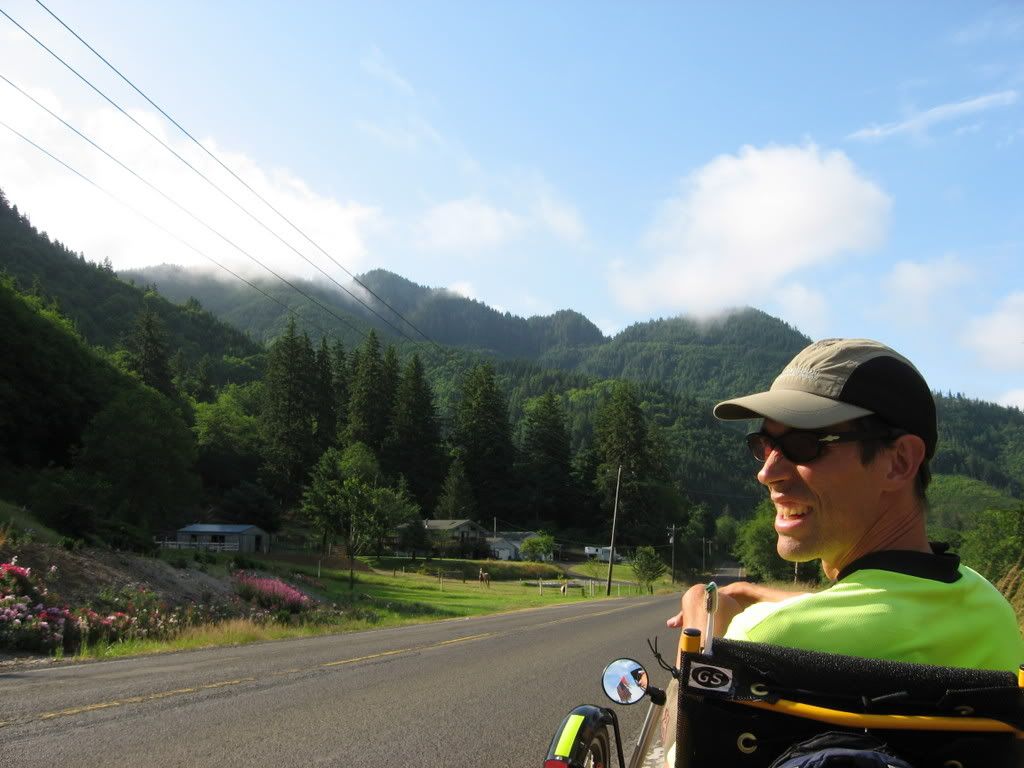 If only all the roads were like this:
What follows is a selection of shots from the road up until we finally gave up. After three days, we knew that, with
doggie
in tow, there was no way we were going to keep up with our more lightly loaded companions, so we started out on our own pace. Quickly, however, we realized that this was not good enough. We needed to ditch the traffic. At Newport, we camped just south of town and pedaled inland the next morning through old town along
Yaquina
Bay, enjoying the classic murals and about 13 miles of idyllic riding in the cool, misty morning. The U Haul dealer was in Toledo. From there, we would drive to near the end of the coast and ride the last day--or so we thought...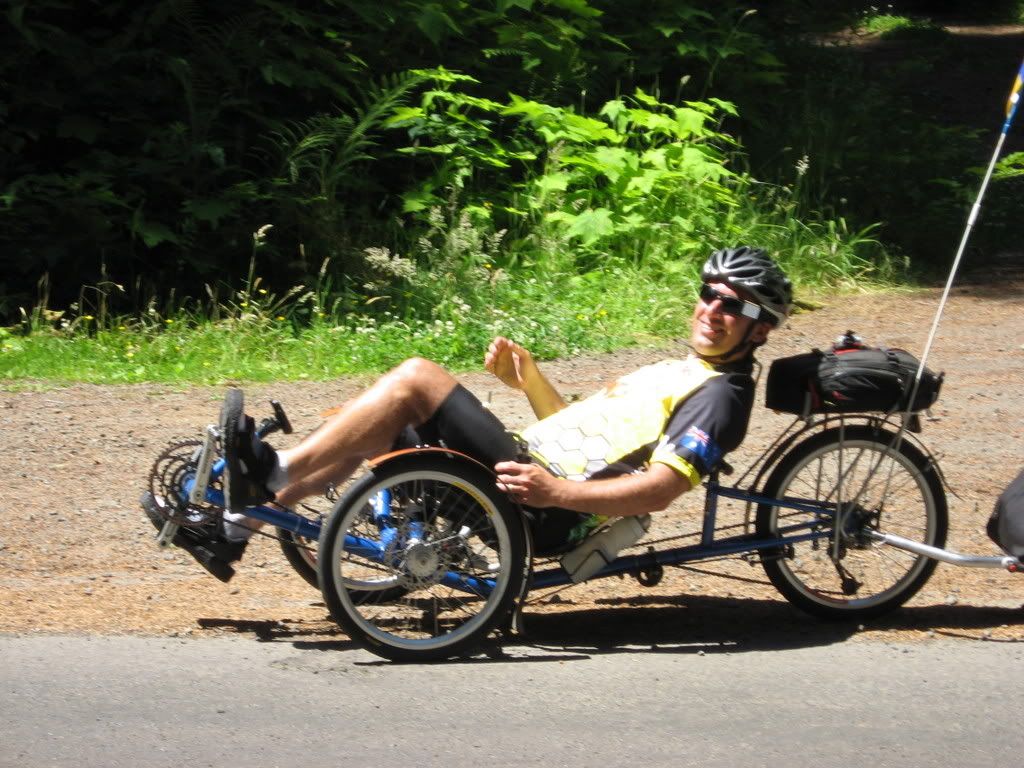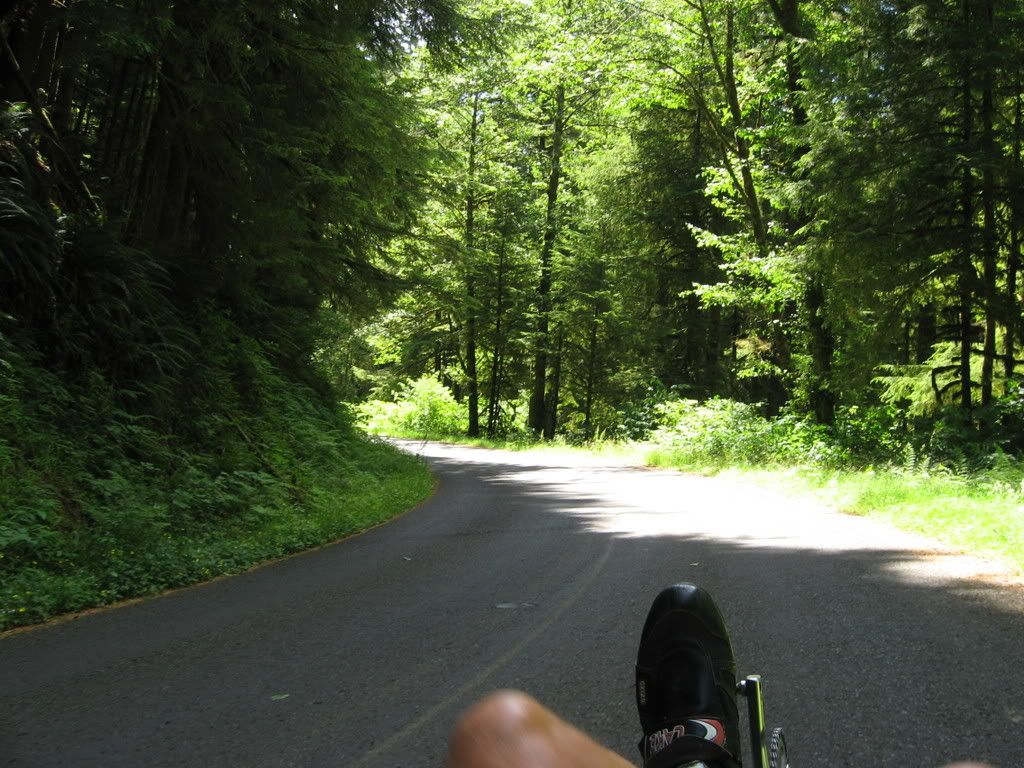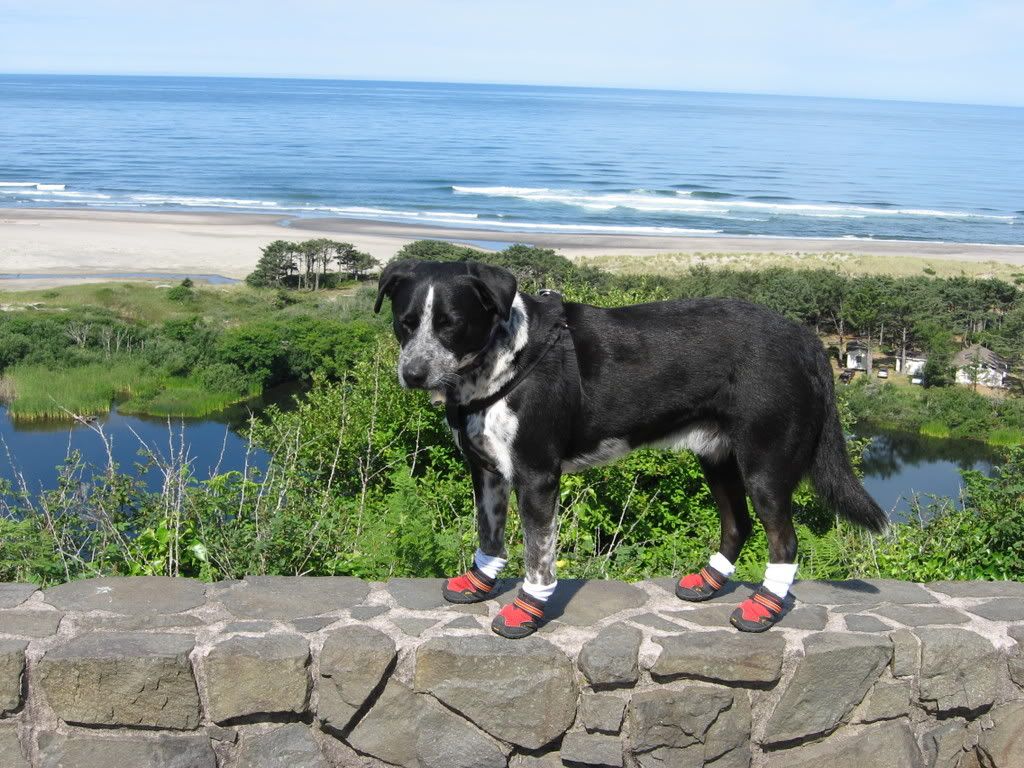 Jodi gives up:
Old town Newport, the murals,
Yaquina
Bay: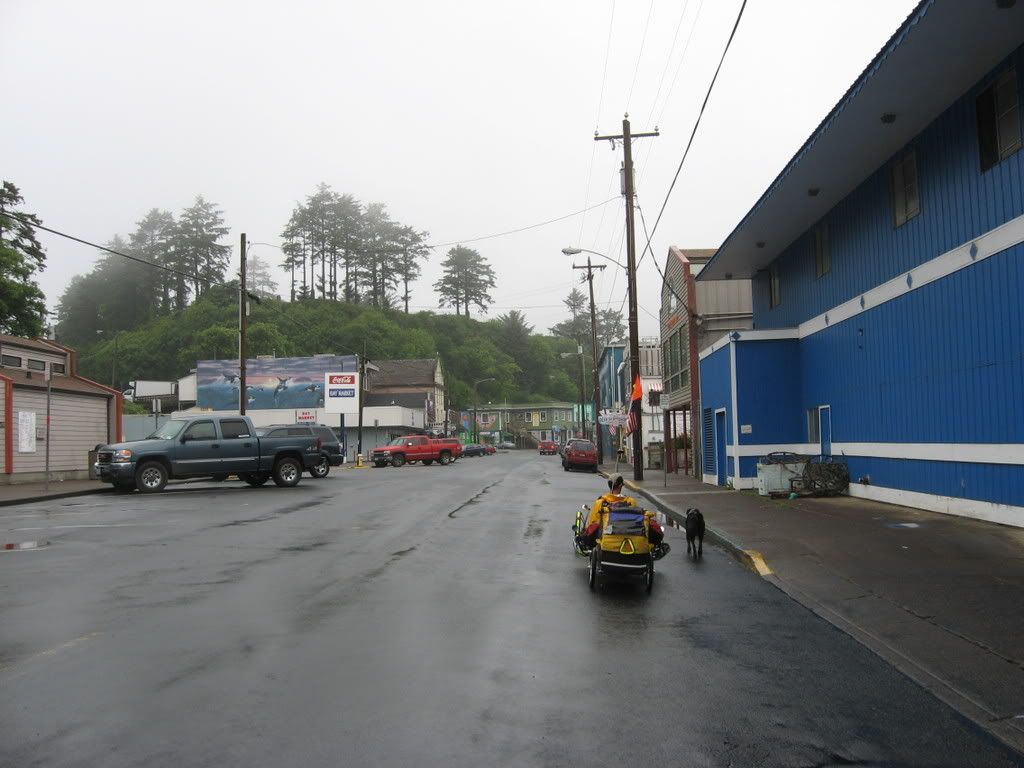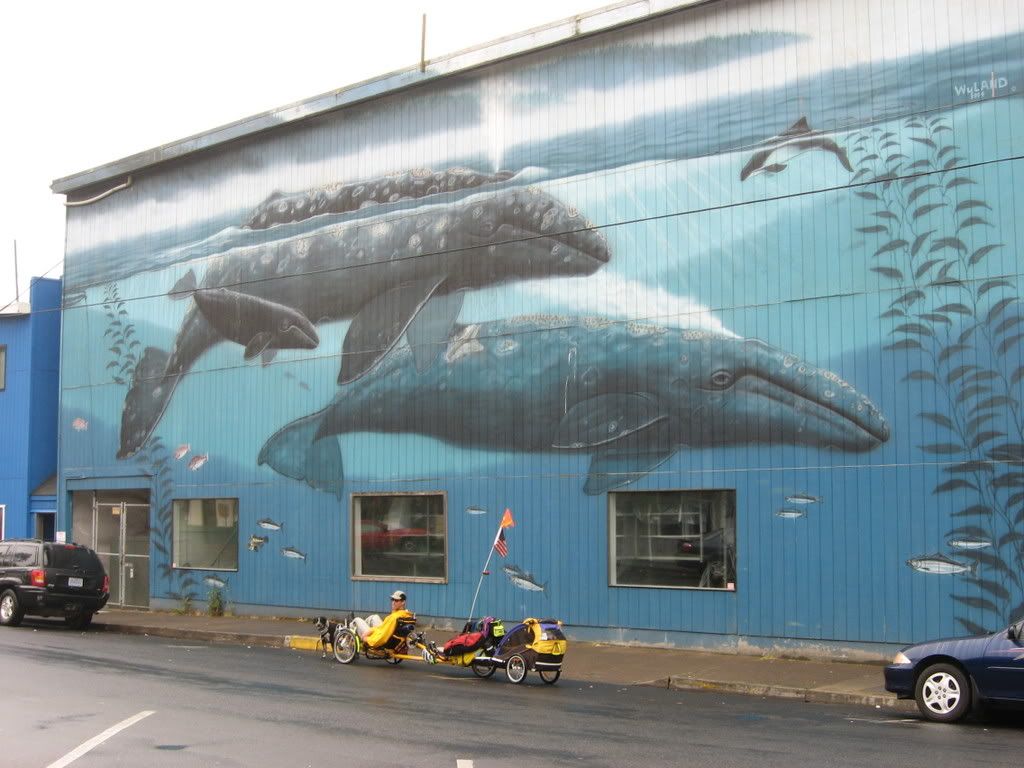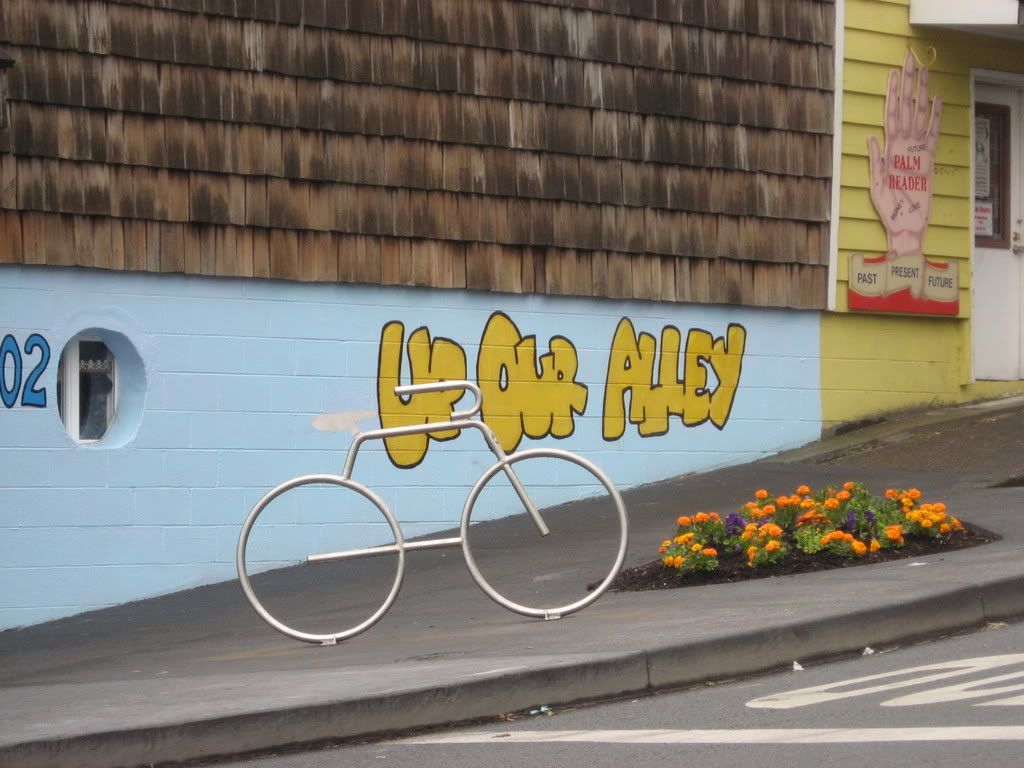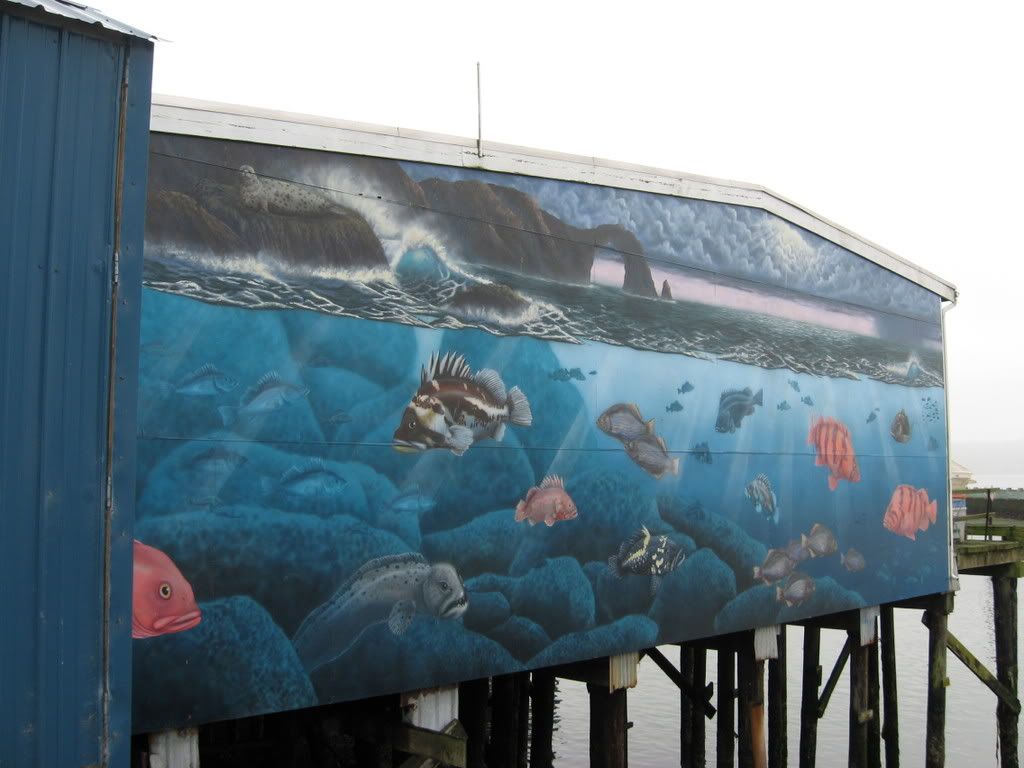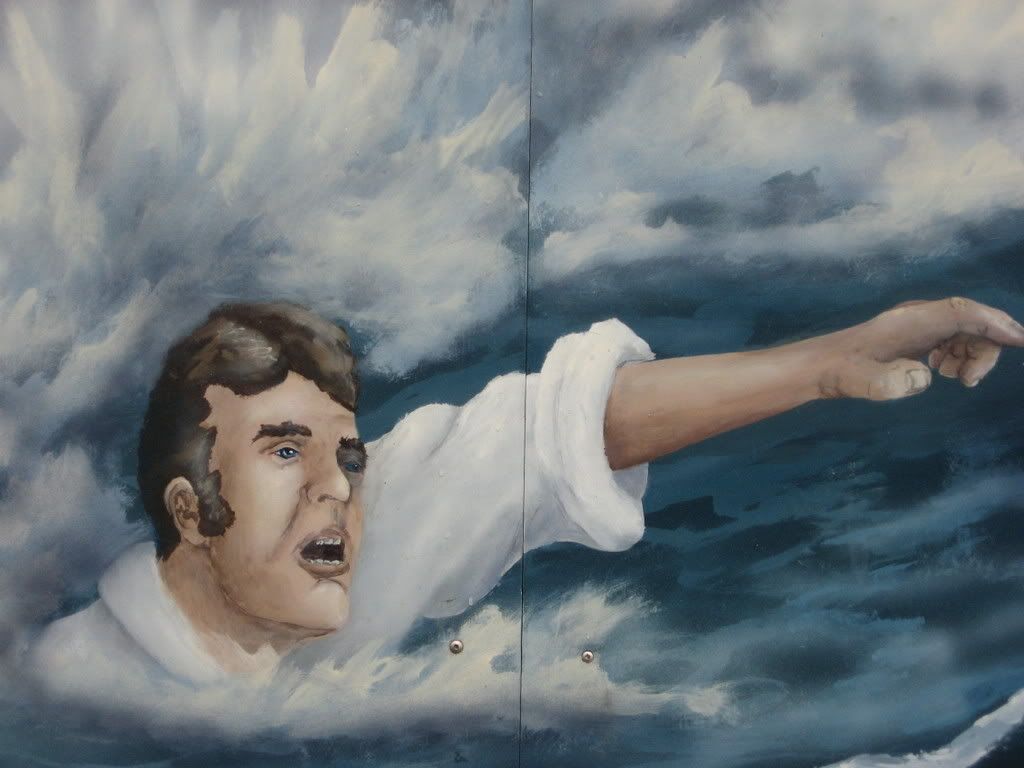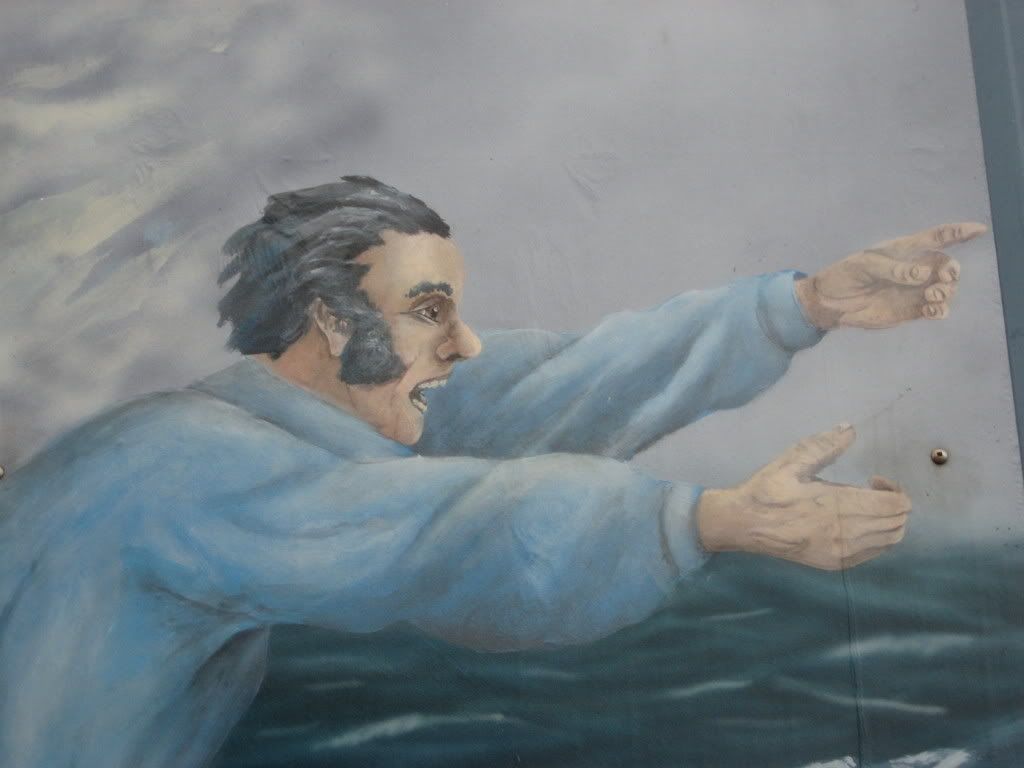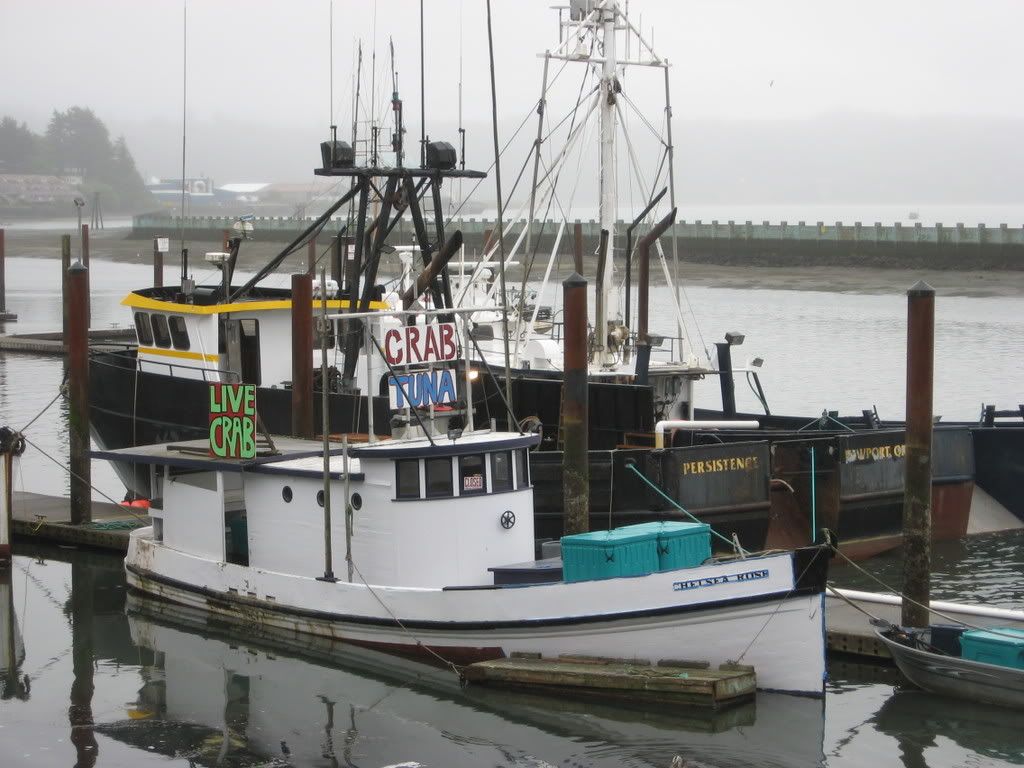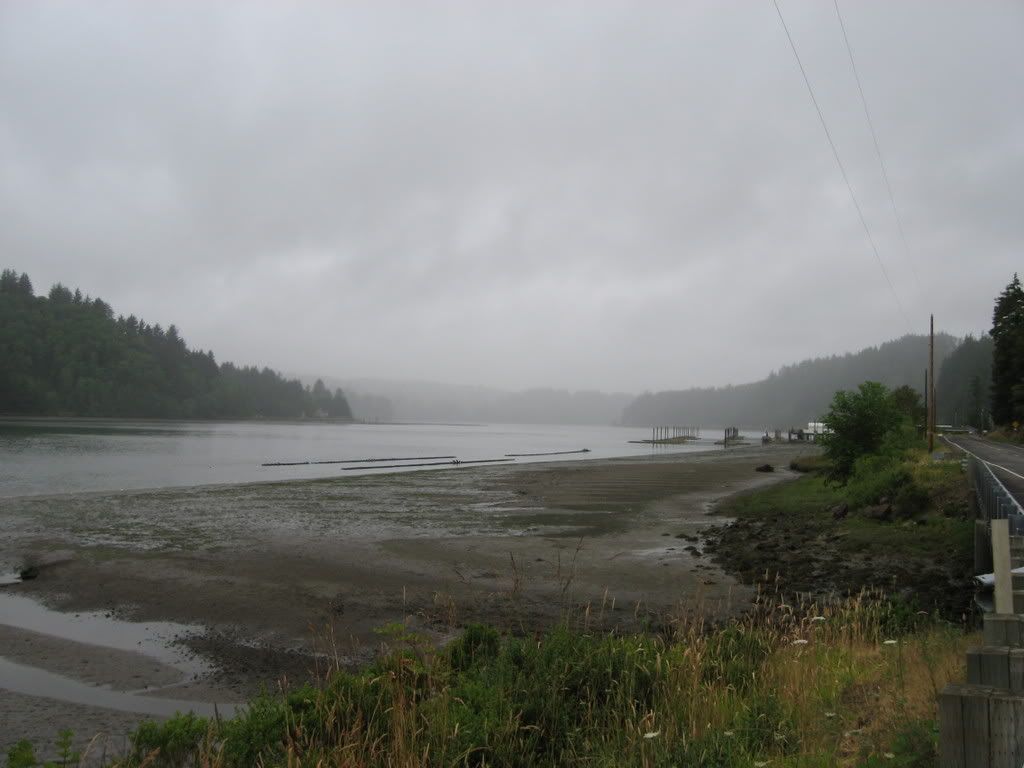 After renting the truck, we headed south, happy to be free of the traffic and sad to be throwing in the towel. However, the further south we got, the better the traffic situation. Hey, maybe we could get back in the game. In Bandon we abandoned the U Haul. Our original destination was to be Brookings, about thirty miles north of Crescent City. We forked out for a motel--ah, the Lamplighter--got some pizza, salad and brews, and contacted our touring buddies. We'd reunite for the last two days of the tour. Hoorah. We were hemorrhaging money like a wounded oil tanker, but this was a vacation, damn it.
The next morning, we unloaded the trike as the traffic started to pick up. Uh oh. Hmmm... could the fact that traffic was so light the day before have anything to do with the fact that it was late Sunday afternoon? To hell with it. We were committed now. No way were we going to rent
another
truck to carry us south. No way in hell. We cut over to a quiet parallel route for a few miles and then back onto 101. Traffic was heavy but not as bad as further north. And the riding was fast, gently rolling terrain--even with bark-brain in the trailer. Lay down the hammer, crew, we've got some miles to burn. About fifteen miles south of Bandon, Jodi heard a strange rubbing sound from the back: "What is that sound?!" We pulled over. A flat. No biggie. Off with the panniers, prop up the tail, off with the wheel. We'd be back in the saddle in no time.
Uh, no, not this time. There was something odd, very odd about the rim. Why was it bulging out like that? Why was there a crack--nay!--a splitting of the outside edge? What the hell was going on? I pulled off the tire and tube only to see the worst case scenario: a complete rim failure. At two places and spreading, the rim was splitting down the middle, a savage rent of the aluminum that drove the final nail into the coffin of this tour. There was no repairing it, no getting a new rim this late in the game, especially on the southern Oregon coast. Game over. Oh curse you, the seven mad gods who rule the touring seas! The good ship Greenspeed was lost, all hands cast into the flotsam of the interstate highway system. There was nothing to it but stick my thumb into the wind, hitch a ride, and re-rent the U Haul at a considerable expense to carry us all the way to Crescent City. On the upside, it was a fine day to hitchhike, sunny, warm but not hot, puffy clouds overhead. We called our friends to inform them of this latest development and got the business done of finally burying this tour. In a few hours, it was all over, the sun setting on our adventure for the last time.