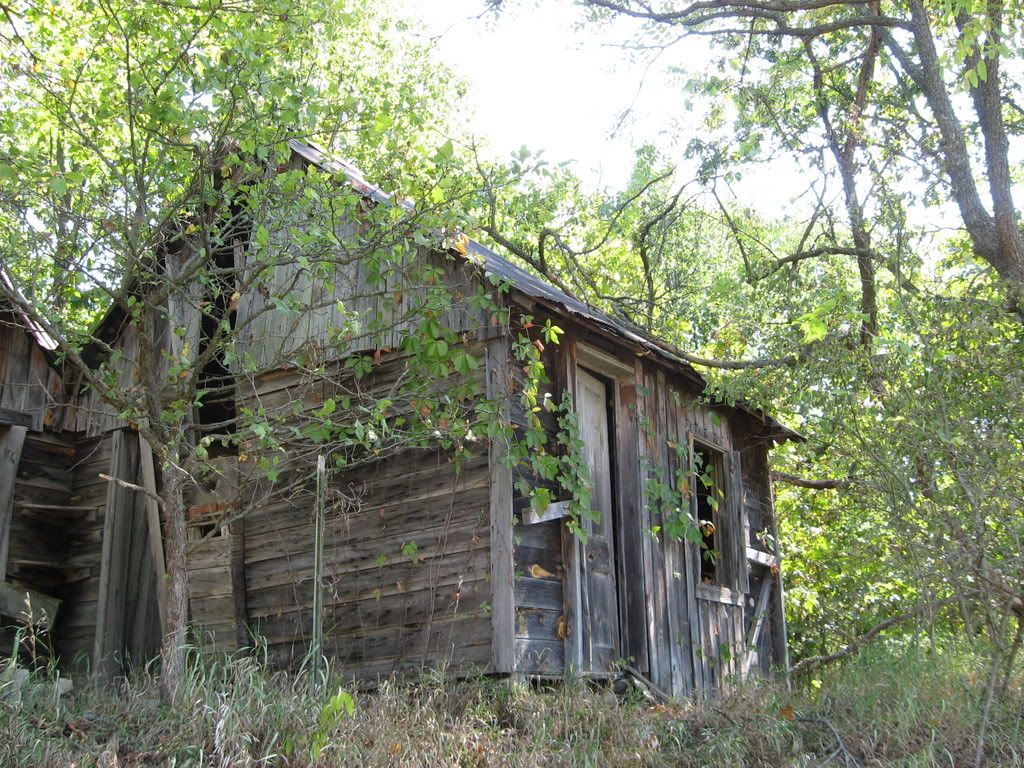 I'm so tired I can hardly write, but it's nice here in the library in Troy, MO. I had a grand time along the ol' Mississippi, but I had to turn inland, and so my tale of woe began.
But first the good news. After yesterday's post, I cranked off a couple of miles to get to a decent grocery store, thinking all the while that I might have to backtrack the whole way to a camp- ground, which was opposite my direction of travel. I had no place to camp and was feeling that little anxious feeling.
How the hell is this going to work out?
The road will provide. After shopping and dealing with another rather low IQ sort (I seem to be a magnet for these) who kept asking endless, rapid-fire questions like a five-year-old, I was approached by a normal fellow interested in my journey. He wished me luck and went into the store. On exiting, he said: "Would you like a hot, home-cooked meal?" I'd just purchased a bunch of food, but I wasn't going to brush off this road angel so quickly. "Sure!" He then asked: "You're not a vegan, are you?" "Hell, no," I replied. "I'll eat anything." Which was basically true. Even if it's still moving, it won't be for long after I get through with it.
Mike called his wife, and we were set. He didn't live "very far" as he put it. I took him at his word and followed on my bike as he cruised through a series of streets into a very nice hood: big trees and classic brick homes, including his own. I pumped like crazy to not fall too far behind, my legs yelping at having already survived 75 miles then being asked to do more.
Shut up, boys, you can take it
. I followed Mike into the house and met the rest of the Mitts clan: his wife, Shelley, and the boys, James, the biggest dude, a junior in high school, and Tom and Dan, skate punks of the finest sort. We feasted on jambalaya and fresh apple pie, amply seasoned with lively conversation. Mike recalled tales of his life in the Marines at 29 Palms and hitchhiking to Palm Springs to catch flights back to Illinois for the weekend to see Shelley. True love, eh? Shelley recounted the interesting characters she'd encountered working in a town, Louisiana, Mo., that I was soon to pass through. Sometimes she referred to it as "Loser-ana" when thinking about some of the people she met while working for a podiatrist who visited the town. It seems that some of these people rarely see doctors and feel compelled to share stories and symptoms other than those foot-related. One character just had to exhibit her major surgery scar for Shelley: "Yep," said the woman, "they opened me up mountain tops to glory hole!" and hoisted her dress for maximum effect. Another woman with a
well-since-I'm-at-the-doctor's-I-might- as-well-show- 'em-this-too attitude
lifted her dress to reveal a bulging hernia the size of a small pony. Ah, the joys of rural medical practice. Be strong, Shelley, be strong!
You folks are the best. Thank you!
The next day, I made easy miles into Hannibal and left Illinois for the last time. As expected, the town was a ruthless tourist trap, but it was nice to see Twain's actual boyhood home and tour the museum. I skipped Tom Sawyer's cave. Out of town, I immediately hit the terrain for which Missouri is so notorious, at least for cyclists. It would be a day of relentless, grinding climbs. A few level stretches offered some relief, but they were
always
followed by a punishing climb where my lowest gears were barely adequate. I learned the fine art of zig-zagging up hill to cut the grade and avoid total blowout. The scenery was most beautiful and sweetly bucolic, but it was a beauty viewed through a fog of sweat and strain. What began as some good, hard work in the morning left me cursing each grade in the afternoon.
One significant event transpired during one of these climbs, however:
I crossed the 2,000 mile mark. Eat my grits, Missouri, I done 2,000 miles!
My day ended on the shores of the Mississippi at an old fisherman's hangout. A set of tracks cut through the woods behind me in the trees, and a train bridge spanned the river to the south. Fortunately, rail traffic was light, though the ground did rumble when one of the diesel spewing dragons squealed by into the night. Mostly I just watched the slow, dark water ease by the overhanging maples. A heron perched on mostly submerged snags and watched for prey, looking like a grim undertaker from a Dickens tale with its hunched shoulders and dark cloak of feathers. Heavy-bodied fish jumped in the shallows and night fell on my Huck Finn camp as I cooked on the shore, happy to spend a night by myself, just me and the river.
Today was more of the same terrible climbs--lots more. Add heat in the high 80's, a head wind, shake AND stir, pour out the cocktail into a set of aching legs and wind-blown skin. My mantra:
Just today and tomorrow, then I'm done. Just today and tomorrow
. Tomorrow I reach Marthasville and the start of the Katy Trail, a virtually flat run due west across most of the state. Free camping and river towns to explore. Can't wait.
No photos today, kids. Older computers in libraries seem to lack the drivers I need. Oh, well. Until next time, keep yer powder dry and yer flints sharp. With a rebel yell, this is Biker Scotty, World Champion Recumbent Cyclist, signing off from the Great American Outback.
Hey, I take back that biz about photos. I've just checked into the Holiday Inn, and the dudes have got a 'puter with high speed connection. Enjoy.
A new game show! Reality, of course...
My Huck Finn camp: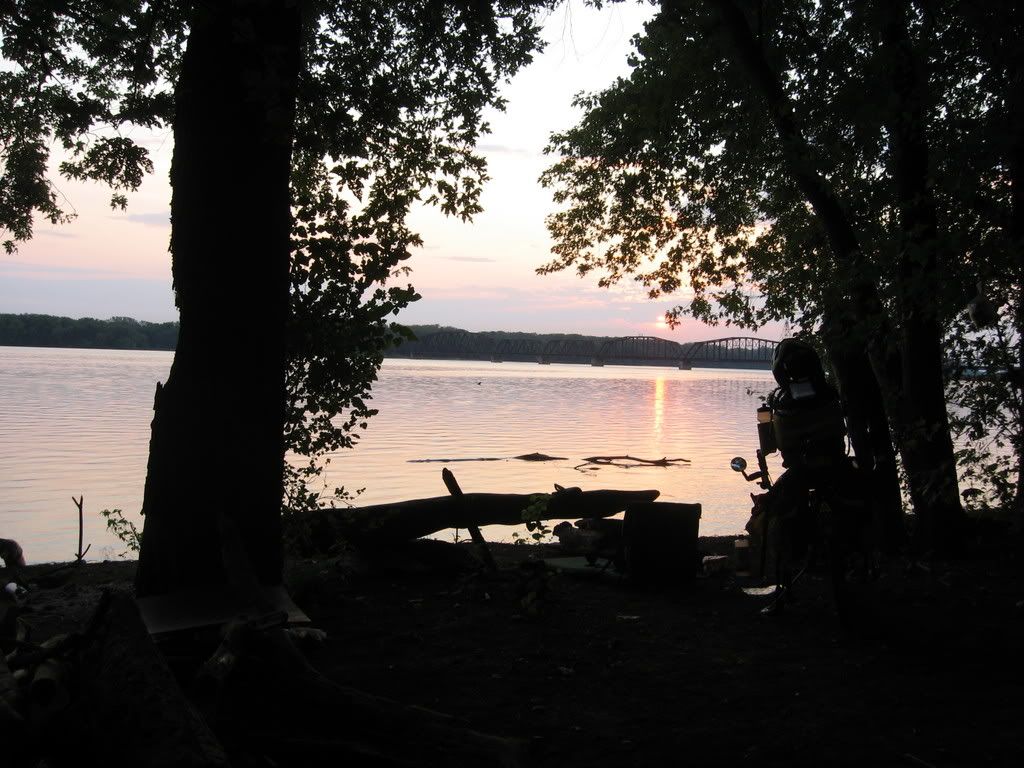 The country I cycled today: