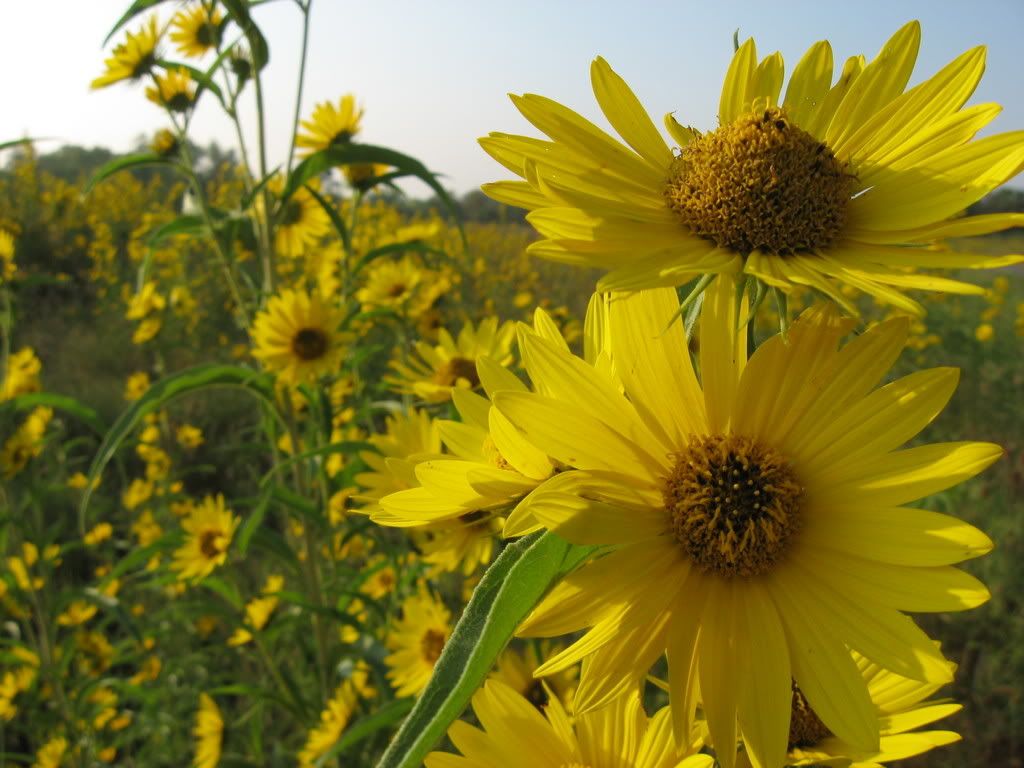 The Midwest stretches on and on and on. But twisters and broom-wielding witches aside, this first stretch of Kansas has been beautiful if not more annoying (bugs/heat) than some earlier segments. Here's my first revelation: Not all of Kansas is flat. Eastern Kansas is hooked up to western Missouri, if you haven't noticed, and that there is hill country.
I camped in
Louisburg
at a vast sports park, endless soccer fields, baseball diamond, and, of all things, a small observatory. I rolled up as folks were gathering for a picnic and evening's viewing of the celestial orbs. I parked a couple of hundred yards away behind some trees and the edge of a field. I had every intention of taking a look at the heavens myself, but fatigue crept in and dictated that I just sleep as much as I could. My wake-up calls were coming in at some pretty sharp hours. I arranged my camp while the gathering crowd set up additional scopes and one fellow flew some model planes. As the sun went down, so did I.
The camp:
At 2 am, nature came calling, whispering at first, then pinching me, waking me up. I hauled my groggy frame from the tent and marched over to the outhouse under a clear canopy of moon and stars. Back in the tent I lay for long moments, listening to the wind in the trees and, for the first time, coyotes. God's dogs have a wide range, but for me they have always symbolized the West. They are guardians of the broad threshold I was crossing, canine singers of a moonlit night for a solitary traveler, a pedal-powered Odysseus bound for Ithaca. The undercurrent of the wind, the quavering melody of the coyotes floating faintly in the background, and the primordial sky all left me in a state of profound wonder and gratitude. What a strange and wonderful place is the world. For all my complaints and grievances, I cannot deny this appreciation.
A few hours later, I climbed and descended on long, gradual hills, many times ripping into the darkness at unknown speeds, over-driving my meager light, flying on trust and hope and slow-drip adrenaline. Still in the dark, I began to encounter
tule
fog in the valley bottoms. The weird mists clung to trees and obscured the farm houses. Like smoky rivers, the moisture flowed along the depressions, one after another, as my morning effort unfolded. Could such a morning give way to a day in the high 80's? Oh, yes. In the Bakersfield area of California, these conditions only occur in the winter, but you're not in California anymore, Dorothy. Kansas has a different game plan.
And so went my day. Smooth roads, long, gradual climbs and descents, a rising sun that burned away the fog then burned away at me. My leg was bothering me some but not as severely as the day before. I was a bit more conscious of taking breaks. After midday I arrived at Osage City, end of the line for this Sunday. After some calls made by the helpful crew at the Casey's mini-mart, I was clear to camp behind the store next to the police station. Okay, shouldn't be bothered here.
What followed was a "challenging" bit of camping. First of all, I was reduced to drinking "Light" beer, Coors Light, to be specific. Scandalous, I know, but there it is. Actually, with the intense heat and humidity, it was more refreshing than I expected. Even so, I think this qualifies as a new low for me, this tour, and adult malt beverages. One never knows what rigors the road will impose. We can only be flexible and endure. The town (all of Kansas?) has some quaint blue laws, only allowing the sale of beer between 12 and 8 pm on Sundays, and the clerk at Casey's said that regulations were in the works to keep the mini-mart from selling any beer at all on the Lord's day. The religious-based motivations for these laws are clear enough. I wondered, though, if they had actually done any good. Do the alcoholics forget to stock up on Saturday for their early Sunday binging? Certainly, I would not be able to buy a can of suds to pour over my Wheaties on the Sabbath. Another aspect of personal freedom taken way by the powers that be. Oh well....
Besides the limp lager, the roughest part of the camp was the incredible humidity and heat. I've complained about this often, but it's hard to get over what it's like to seal yourself up in a tight space under these circumstances, sweat oozing from every pore, gasping for breath like a beached sturgeon, begging for release like a tortured sinner. GET...ME...OUT...OF...HERE! But you can't get out. You've got to fight for sleep and keep a wall between you and the snarling insects eager for fresh meat. A breeze picked up, and at last I was getting some sleep until the rain started. Once I'd jumped back in after setting the fly over the tent, the misery index climbed back into the stratosphere. Worse, in my haste, and undetected for some time, were the handful of mosquitoes that followed me in. And so began the blood bath. Morning couldn't come soon enough.
But the day always seems to bring new hope, and my enthusiasm for the quest remained undiminished, especially since I was headed for my nephew's place in Manhattan where I would take a prolonged rest stop. This anticipation fueled my drive, but the quality of the riding was gift enough. I toured through an area called the
Flint Hills
or "Native Stone" region, a land of mesas and long, horizontal ridges creased by forested ravines and creek-filled bottom lands. Each climb would lead to an exhilarating drop
twisting
through the trees. This was a "Western" landscape, no doubt about it. This was limestone country, and the miles of hand-built stone fences attested to the nature of the stone and the people who had settled this country. I stopped for an early (1st) lunch along one of these walls and was impressed by the unimaginable back-breaking labor they represented. Thousands upon thousands of limestone plates were collected, hauled into position and lifted into place. No hydraulic-swing-arm-fork- lift-diesel-powered assist here. Muscle, bone and determination built these walls. I sat on the wall, munched my sandwich and contemplated my good luck at missing
that
work party.
The wall: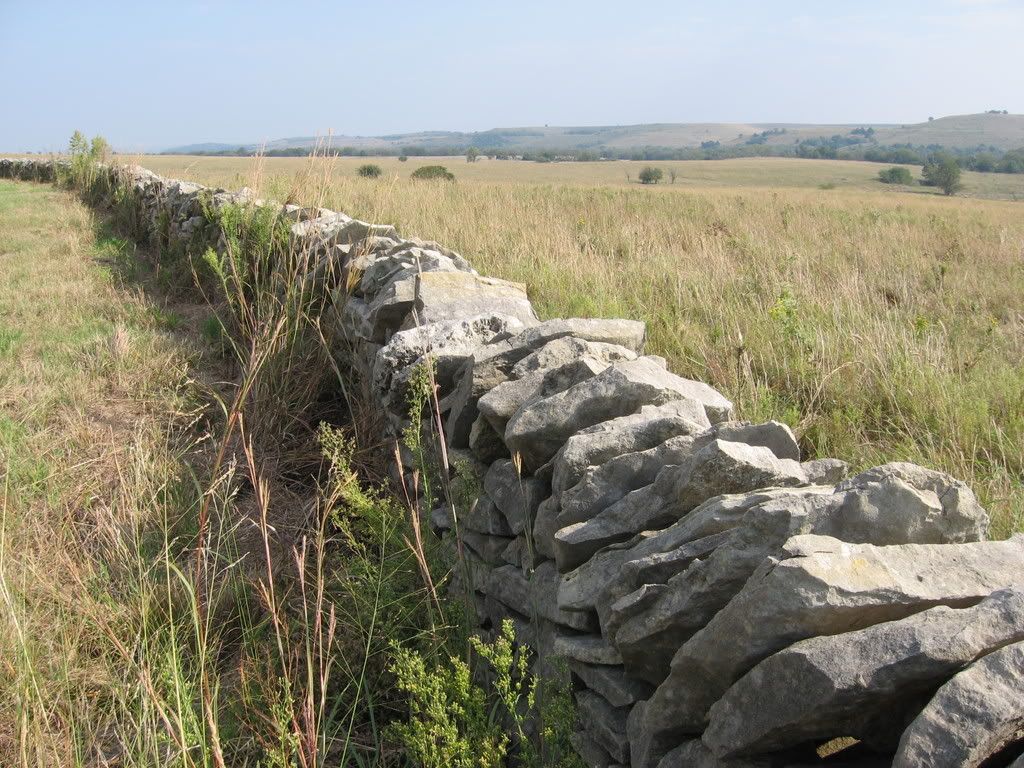 I'd roughly calculated 65 miles for the day. "Roughly" was rough indeed. After almost 78 miles, I found Clint and Jen's place in a suburb next to Kansas State University, an institution that truly dominates the town. Much of the day had been spectacular tail winds, but the last ten miles or so were cycled under buffeting side winds, and I was tired, hot, ready to finish. I stepped into their small, three-bedroom home and found AC, air conditioning. I almost cried. The sudden release from the grip of the meteorological beast was precisely what I needed most. Next cool shower and cortisone cream for my piteously perforated body--bites everywhere: belly, back, butt, ankles and elbows. Sleep, rest, recover.
Now I lay low, let the squad cars search in vain, an APB for naught. I'll be here for three days at least, recharging, preparing for the next leg, over 500 miles of straight roads to the Colorado Rockies, which I will enter at Pueblo. I've already begun the long, gradual climb across the
craton
. I'll ascend, somewhat imperceptibly, another 4,000 ft. as I cross over. Each foot I climb adds up to cooler weather, cooler nights, drier conditions. I've covered just over 2,500 miles, so by my calculations, I'm over the halfway point. It's so strange to think about where I started. I can now look at an overview of the USA and see the huge chunk I've accomplished and the big piece remaining. This is not even the end of the beginning. I'm in it now. My leg is feeling better. In fact most of yesterday's ride was trouble free. So it was just one of those temporary body rebellions that we elite
cyclo
-tourists must endure. Sometimes our muscles still balk at what they are asked to do. The will, however, must be stronger than the flesh. This period of rest, however, is going to be a very good thing indeed.
The road ahead: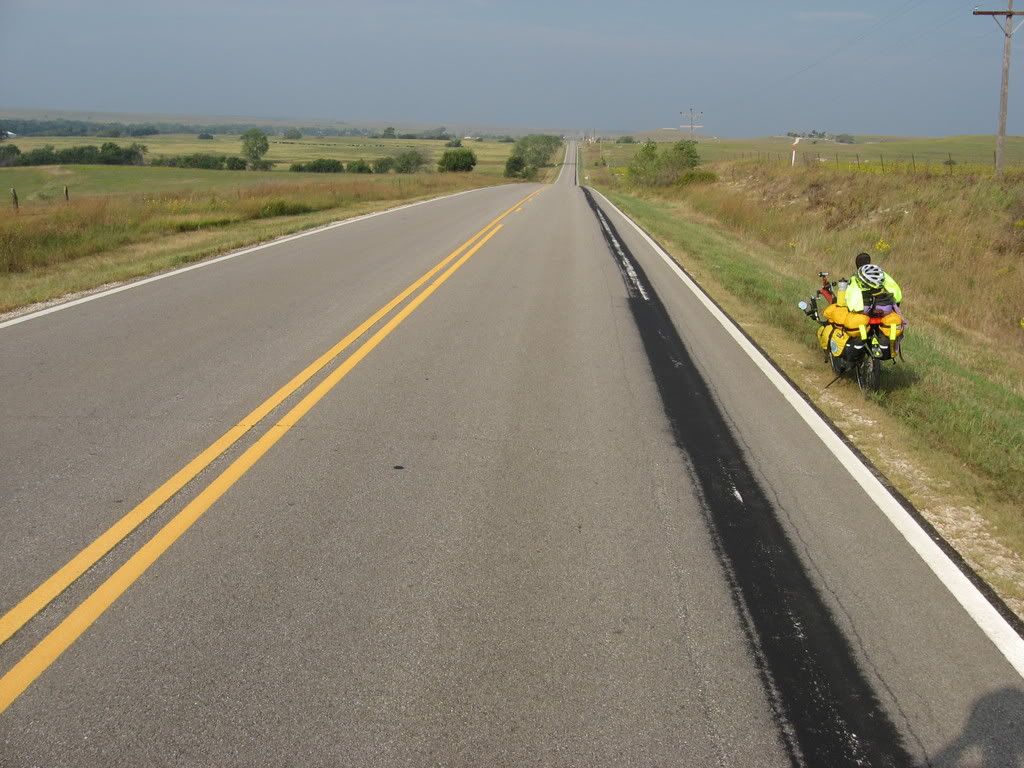 Kansas splendor: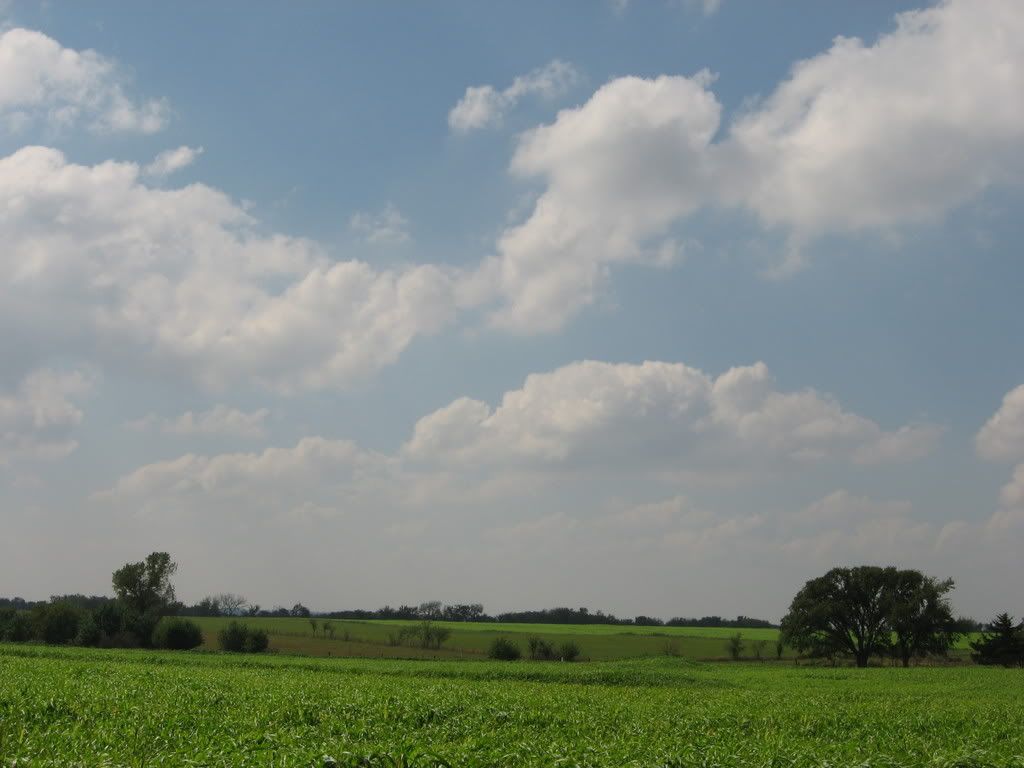 That's all for now, kids. Be kind to your pixels, for they represent you. Biker
Scotty
signing off from the Central Zone of the Great American Outback.